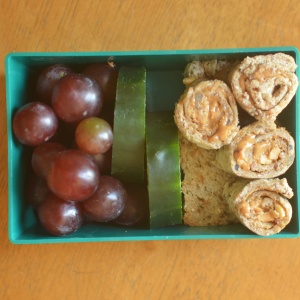 With so many of us sending kids back to school right now, I thought I'd share a little lunchbox inspiration with you! I sent my oldest off to 3rd grade and my middle child to kindergarten yesterday….then my youngest starts preschool in a few weeks!
For our children, lunch is a reminder of Mom during their school day, so I try to make it a highlight vs. an afterthought – I imagine them opening their lunchboxes to discover something delicious, healthy, and maybe even a little bit fun that I've packed for them. Something like this hits the mark…
Here's a super-fun idea that works really well in a bento box style lunchbox. It's designed to look like sushi rolls…but it made from wheat bread and almond butter or peanut butter! You're guaranteed the Coolest Mom award at the lunch table if you send this in for lunch. If your child is allergic to nuts or attends a nut-free school, substitute Sunflower Seed butter (I like the Trader Joe's brand) or even cream cheese for the filling.
Almond Butter and Honey Sushi Sandwich Lunch
adapted from Super Healthy Kids

serves 2
Ingredients:
2 slices bread, wheat
1 tablespoons almond or peanut butter
1 tablespoons honey
1/2 sliced cucumber with peel left on
1/2 cup red or green grapes
Directions:
1.  Cut crusts off wheat bread, and roll flat with a rolling pin.
2.  Spread half tablespoon of almond or peanut butter on each slice.
3.  Pour half tablespoon of honey on each slice.
4.  Roll bread into a tight roll and cut crosswise like sushi.
5.  Serve with cucumber slices and grapes.