Do you remember what it was like to be in 4th grade? Most of us have extremely clear memories about something that shifted for us at that point. I can remember being deemed "invisible" by a group of cool girls I thought were my friends. When I spoke, they would literally say to one another, "Did you hear something? I didn't hear anything." Some of you may recall being left out of a clique, or being teased about your lunch, or your clothes, or your hair, or your weight, or worse. Many of us started to close up and live differently as a result of these experiences. We retreated into the Girl Box and played it safe, living smaller than we could have for years…or forever.
Enter Girls on the Run.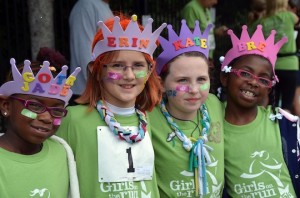 This dynamic organization is about SHATTERING the Girl Box and encouraging girls to dream and live as big as they can! And they do all of this while preparing the girls to complete a 5K at the end of a 12-week season.
Girls on the Run inspires girls to be joyful, healthy and confident by using a fun, experience-based curriculum that creatively integrates running. The girls meet twice per week with encouraging volunteer coaches who teach the girls important skills like healthy eating, standing up for oneself, being positive, and managing stress – all while training for the Girls on the Run 5k at the end of the season. In addition to physical activity, the girls learn to believe in themselves in an encouraging team atmosphere. Girls on the Run provides girls with tools, confidence and positive peer support group so that they can thrive in middle school and high school.
How 'bout that? Seriously, don't you wish you'd had Girls on the Run? I first learned about the organization when I was living in Atlanta, and then I served as a founding Board Member for the Greater Cincinnati chapter back in 2005. My dear friend Erin Hamilton left her thriving corporate career to serve as the Executive Director and personally coached a small team of 12 girls in Loveland that year.
This year, GOTR of Greater Cincinnati will serve nearly 2,000 girls. It gives me goosebumps. Many of those girls are on scholarships, so fundraising is key to GOTR's viability. I'm making it super-easy for you to support this amazing organization because if you subscribe to Nourish Menu Plans by November 17th I will donate 10% of your subscription to GOTR. Get all the details here!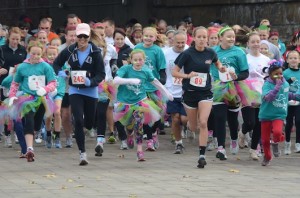 November 17th is the GOTR Fall 5K in Cincinnati
You can also donate directly to GOTR of Greater Cincinnati via their website. If you want to find your local chapter or donate to GOTR International instead, go here.
If you can't donate money, will you consider donating your time? They need race volunteers, coaches, and administrative helpers. Or run or walk the 5K. It's an experience you will NEVER forget as you cross the finish line with throngs of extremely excited 8-13 year old girls with painted faces and rainbow colored running gear and foam crowns and sometimes even tutus. Wanna see? Really, check out those pictures and tell me you're not moved. Go be moved.
Get involved – give your time or make a donation – and when you do, the Girl Box will feel like a distant memory… left in the dust… right where it belongs.