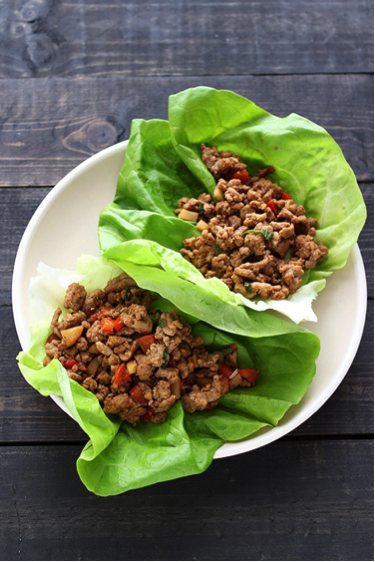 One of my favorite ways to play in the kitchen is to think about foods I'd love to order at a restaurant, and then make them over into healthier versions of themselves. These lettuce wraps are just that kind of thing.
This is a lower carb dish with all the flavors you love from Asian takeout, but with less fat, sodium, and sugar! Clocking in at under 400 calories per serving, you can have a hearty helping with no side of guilt.
Asian Turkey Lettuce Wraps
Serves 4
Ingredients:
1 Tbs. olive oil
1 lb. ground turkey
2 garlic cloves, minced
1 red bell pepper, diced
1 small onion, diced
¼ cup hoisin sauce
2 Tbs. soy sauce
½ tsp. grated ginger
1 cup cooked quinoa (red or golden)
3 green onions, thinly sliced
1 head of iceberg lettuce or butter lettuce
Directions:
1. Be sure quinoa is cooked before you begin!
2. Heat olive oil in a saucepan over medium high heat. Add ground turkey and cook until browned, about 3-5 minutes. Drain excess fat and set aside.
3.  Add garlic, red bell pepper, and onion to the sauce pan and cook until tender.
4. Stir in hoisin sauce, soy sauce, ginger, and ground turkey until well combined. Add in quinoa and green onions and combine.
5. To serve, spoon several tablespoons of the ground turkey mixture into the center of a lettuce leaf.