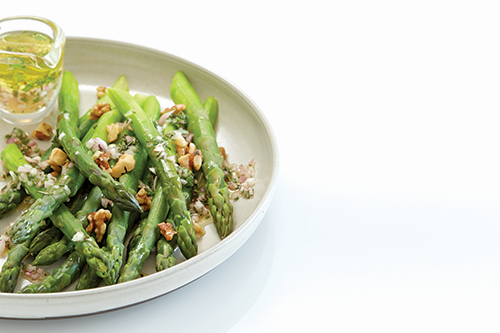 Spring is asparagus' moment in the sun. It's at its peak right now so I'm trying to take full advantage of that, making it lots of different ways.
This salad is a great departure from the norm, and it uses walnut oil, which is a sublime addition to your pantry. If you've never cooked with it, you're in for a treat. You'll find it in the specialty oils section of the grocery store. It's a little pricey, but absolutely worth it. I've added toasted walnuts as well which give this salad texture and help to augment the nutty flavor.
You can serve this salad warm or cold (I like it warm, so that's how it's written. If you want to serve it cold, you'll want to blanch and cool the asparagus first as written below.
Asparagus Salad with Walnut Oil Vinaigrette
Serves: 6
Ingredients:
1/4 cup white wine vinegar
1 tablespoon minced shallot
2 teaspoons Dijon mustard
3/4 teaspoons salt
1/2 teaspoon freshly ground black pepper
1/4 cup vegetable oil
1/4 cup walnut oil
2 pounds asparagus, trimmed and steamed just till tender*
1/3 cup toasted*, chopped walnuts
2 tablespoons chopped fresh parsley
More salt and freshly ground black pepper if desired
Directions:
1. Whisk the vinegar, shallot, mustard, salt and pepper together.
2. Whisk in the vegetable oil slowly and then the walnut oil.
3. Steam asparagus, drain, transfer to serving plate or bowl and pour dressing over it, tossing to coat (you may not need all the dressing).
4. Top with chopped toasted walnuts and parsley before serving.
*To steam asparagus, place in a glass bowl with 2 Tbsp water. Cover with plastic wrap and microwave 1-2 minutes on high. If serving salad cold, immediately plunge asparagus into ice water to stop the cooking to preserve crispness. Once cooled, remove from water and pat dry.
* To toast walnuts, place in a dry skillet over medium heat and toss occasionally until fragrant and browned on the edges.