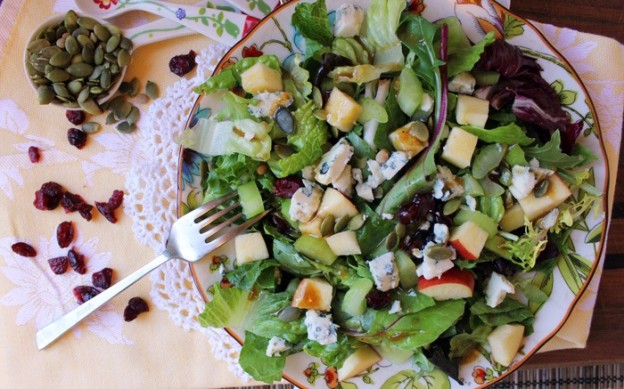 You know those fall days when you whisk yourself outside to do something active that lets all that crisp, cold air into your lungs where it can rejuvenate and energize you? And then you come inside with red cheeks and cold hands and smell something delicious simmering on the stove that's ready to warm you from the inside?
Well, this autumn salad is the perfect combination of crisp, sweet, & tart to serve with whatever THAT is. (Need an idea? Try this Irish Potato Soup and a slice of hearty whole grain bread…) I love that this dressing uses pumpkin puree – it's unique and perfectly seasonal. And if you're anything like me, you end up with an extra can or two of pumpkin puree laying around in November because you never got around to making that last batch of pumpkin goodies…
Let me know what you think!
Autumn Salad with Pumpkin Vinaigrette
serves 4-6
Ingredients for salad:
1 large head of romaine lettuce, washed , dried, and torn
2 large carrots, peeled, cut in half and sliced
1 small green apple, thinly sliced
1 small yellow bell pepper, thinly sliced
1/4 cup toasted pumpkin seeds
1/4 cup dried cranberries
Ingredients for dressing:
1/2 cup pumpkin puree
1/4 cup apple cider vinegar
1/2 cup extra-virgin olive oil
4 fresh sage leaves, finely minced
1/2 teaspoon salt
1/4 teaspoon freshly ground pepper
Directions:
1. Combine all of the vinaigrette ingredients in a small blender (perfect for the Magic Bullet or something similar). If you don't have one, you can just whisk together!
2. Toss salad ingredients in a large bowl and drizzle with just enough dressing to coat. Toss and serve.
PS – This salad is adapted from a recipe shared by the Institute For Integrative Nutrition, where our Nourish health coaches earned their certification (myself included!).