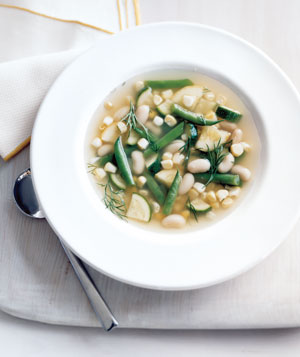 We are in the final days before school starts, so I've started the discussion with my kids about what they'd like to find in their lunchboxes this year. We've generated a good list of ideas, but there's one option that is a favorite for all three, and that's SOUP!
My kids really love to take soup for lunch. We have small thermoses that fit in their lunchboxes and if I pack them hot soup with some cut up veggies or fruit and a little treat, I almost always find an empty thermos at the end of the day!
I love that I can make a pot of soup on Sunday and send soup in for several days during the week from that one pot. In the morning, I just heat a serving in a glass measuring cup  (the kind that looks like a little pitcher) in the microwave, pour it into the thermos, and repeat the process for each child. Raw veggies and fruit can be packed up the night before so this doesn't take too long. If you're packing LOTS of lunches, you may want to just heat a pot on the stove and fill the thermoses from there.
This particular recipe is a favorite, and it's perfect in August because it uses late summer vegetables that you can still find at the farmer's market (corn, zucchini, squash, beans, onions and potatoes). With the addition of cannellini beans as a protein source, you have most everything you need for a healthy lunch in one bowl!
Back to School White Vegetable Soup
8 servings  (so you'll have enough to get multiple lunches)
Ingredients
8 cups low-sodium chicken broth (or vegetable broth)
2 15.5 oz cans cannellini beans, drained and rinsed
2 medium potatoes, peeled and diced
2 medium zucchini, cut into bite-size pieces
2 medium yellow squash, cut into bite-size pieces
1 pound fresh green beans, cut into bite-size pieces
3 cups corn (cut from 3 ears of fresh corn or use frozen)
2 medium onions, finely chopped
salt and pepper
1/3 cup fresh dill springs (optional – parsley is good, too!)
Directions
In a large pot over medium-high heat, bring the broth to a boil.
Add the potato, zucchini, yellow squash, green beans, corn, onion, ½ teaspoon salt, and ¼ teaspoon pepper.
Simmer until the vegetables are tender, 10 to 15 minutes.  Add cannellini beans. Stir in the dill.