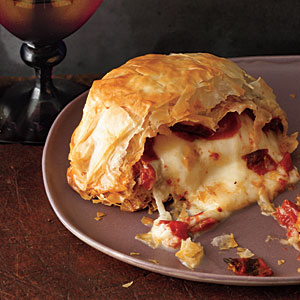 The first time I ever had burrata, I was out for a drink with a good girlfriend at a wine bar and we stumbled upon it on the menu. Intrigued by the idea of mozzarella infused with CREAM, we indulged. And wow. This is not mozzarella (and it's not fresh mozzarella or bufala mozzarella either, although it looks similar to both). It's a thin skin of mozzarella containing something even better, a creamy center that spills out when cut into. A-ma-zing.
This baked version makes an absolutely fantastic holiday appetizer, but be forewarned that it has a few extra steps involved (each totally worth it). Most importantly, make sure you FREEZE the ball of burrata the night before you need it so that it's ready. You can also roast the tomato mixture the day before and store it in the fridge until you need it. With those two steps behind you, this goes together quickly and your guests will ADORE you.
Baked Burrata

Adapted from Cooking Light
Serves: 16

Ingredients:
1 (8-ounce) ball burrata
5 teaspoons olive oil, divided
1/2 teaspoon each, chopped fresh thyme & rosemary
1/4 teaspoon kosher salt & black pepper
3 large ripe plum tomatoes, halved
2 large garlic cloves, crushed
6 (14X9-inch) sheets frozen phyllo dough thawed
Cooking Spray
Toasted baguette slices
Directions
Early in Day or Night Before: Unwrap burrata; gently pat dry.  Wrap burrata in several layers of plastic wrap to preserve the "ball" shape.  Freeze 8 hours or until completely frozen.
1. Preheat oven to 425°.
2. Combine 2 teaspoons oil, herbs, salt, pepper, tomatoes, and garlic; toss to combine.  Arrange tomatoes, cut sides up, on a foil-lined baking sheet. Bake at 425° for 40 minutes or until blistered and liquid almost evaporates. Cool. Chop tomato mixture.
3. Reduce oven temperature to 350°.
4. Working with one phyllo sheet at a time (covering remaining phyllo to prevent it from drying), lay one sheet on a flat surface, and coat with cooking spray. Stack another phyllo sheet at a slight angle over the first, and coat with cooking spray. Repeat the procedure with remaining phyllo and cooking spray, angling each phyllo sheet slightly over the previous sheet. Using a slotted spoon, spoon tomato mixture in center of phyllo stack, and discard any liquid. Unwrap burrata, and place frozen burrata on tomato mixture. Fold the phyllo edges over to enclose cheese and tomato mixture, pressing to seal. Turn ball over so the tomato mixture is on top, and place on a foil-lined baking sheet coated with cooking spray. Brush phyllo with remaining tablespoon olive oil.
5. Bake at 350° for 30 -40 minutes. Remove from oven.
6. Preheat broiler to high and then broil cheese ball 2 minutes or until golden brown. Serve immediately. Cut with a sharp knife and spread on toasted baguette.