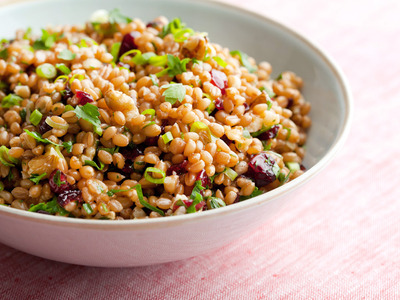 Ina Garten and I go way back. I love each and every one of her cookbooks, and found her latest one, Foolproof, to be just as inspiring as all the others! I mean could you just DIE over the food photography in these books?? The introduction to her book, Parties, had me at hello way back when. In fact, I can trace my earliest yearning to start Nourish back to the moment I read that foreward standing in a Barnes & Noble in Atlanta. I was overwhelmed by her story of quitting her job to buy a little shop in the Hamptons to sell amazing food and cater delightful parties. Swoon. I bought the book on the spot, and eventually followed in her footsteps, quitting my corporate job to pursue my passion for food.
Anyhow, enough about me, back to you, and your dinner!
This dish is basically a riff on risotto, using brown rice and wheat berries. It leverages a simplified method, where the cooking is finished in a low temperature oven instead of by stirring on the stovetop. Any chance to reduce the active cooking time is a win, right? Plus, you get to use wheatberries, which make you feel like such a foodie when you buy them. Ina has a great balance of sweet and savory here, ready to perfectly complement a pork tenderloin or roast chicken on your dinner table.
Brown Rice & Wheatberries

adapted from The Barefoot Contessa – Foolproof
Serves 6
Ingredients:
2 tablespoons unsalted butter
2 tablespoons good olive oil
1 1/2 cups chopped yellow onion (1 large)
1 cup brown rice
1/2 cup hard red winter wheatberries (you can find these in bulk food aisle at Whole Foods)
6 scallions, white and green parts, thinly sliced, plus extra for garnish
1/4 cup toasted pine nuts
3 1/2 cups chicken stock
Kosher salt and freshly ground black pepper
1/2 cup craisins
Directions
1. Preheat the oven to 275 degrees (yes, 275).
2. Heat butter and oil in a large pot.  Add onion and saute for 8 minutes, until translucent but not brown.  Add the rice and wheatberries and continue to cook, stirring occasionally, for 5 minutes.
3.  Stir in the scallions, pine nuts, chicken stock, 2 teaspoons salt, and 1 teaspoon pepper and bring to a boil.  Reduce the heat to a simmer, cover and bake for 50 minutes.
4. Add the craisins, cover again and set aside for another 15 or 2o minutes, until the grains are tender and most of the liquid has been absorbed.  Salt and pepper to taste, sprinkle with scallions and serve hot.