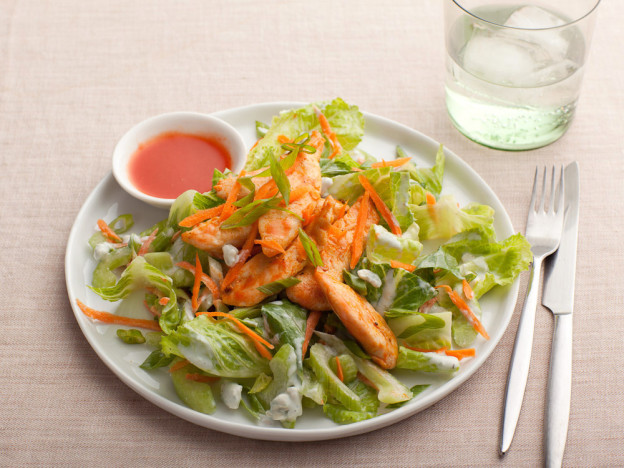 I don't know about you but when I see a Buffalo Chicken Salad on a menu I want it.  Unfortunately, most of the time, the chicken is fried, the salad has a mound of shredded cheese, and it's doused in a high fat dressing. Consequently, I rarely order it when I'm out. I wanted something I could make at home to scratch the itch and this is it.
The buffalo sauce on the chicken has just enough kick and the homemade bleu cheese dressing trims the fat compared to what you'd find in a restaurant. A serving of this salad clocks in at just about 250 calories leaving plenty of room for an appetizer, cocktail, or dessert! That's my idea of a great Friday night meal.
Buffalo Chicken Salad
adapted from Ellie Krieger
serves 4
Ingredients:
1 lb. boneless, skinless chicken breast cutlets
2 tablespoons cayenne pepper hot sauce or buffalo sauce, plus more to taste
2 teaspoons olive oil
2 hearts Romaine, chopped (about 8 cups)
4 celery stalks, sliced
2 carrots, shredded (or sliced)
2 scallions,  sliced
1/2 cup Blue Cheese Dressing, recipe follows
Directions:
1. Preheat the broiler. On a cutting board, slice the cutlets into strips.
2. In a large bowl, combine the hot sauce and the oil, add chicken and toss until the chicken is well coated. Arrange the chicken on a baking sheet and broil until it is cooked through, about 4 to 6 minutes, turning once.
3. In a large bowl combine the Romaine, celery, carrots and scallions. Toss with the dressing. Divide the greens between 4 plates, top with the chicken. Serve with extra hot sauce.
Blue Cheese Dressing:
2 tablespoons mayonnaise
1/4 cup lowfat buttermilk
1/4 cup plain Greek yogurt
1 tablespoon white vinegar
1/2 teaspoon sugar
1/3 cup crumbled blue cheese
Salt and freshly ground pepper
1.  In a medium bowl, whisk the buttermilk and yogurt into the mayonnaise until smooth. Add the vinegar and sugar and continue to whisk until all the ingredients are well combined. Stir in the blue cheese and season, to taste, with salt and pepper.
Yield: 3/4 cup