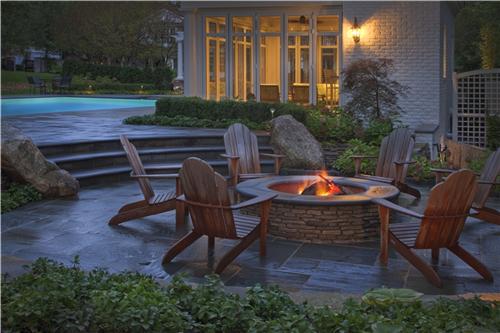 If you were to assemble a grocery list of classic fall ingredients, you just may start with butternut squash, gorgonzola cheese, and toasted walnuts. Pumpkin would make the cut for me, as would Honeycrisp apples, and brussels sprouts. I'd need a little prosciutto and definitely some fresh sage.
It doesn't take much to usher a new season into your kitchen. But this dish will do it with panache. The flavors blend beautifully and you'll taste fall in every bite.
As for me, I'll be pouring a glass of red wine, taking my plate outside, and persuading my husband to build a fire in the firepit. Bring it, October.
Butternut, Gorgonzola, and Walnut Cavatappi

Adapted from Cooking Light
Serves: 6

Ingredients:
4 cups (1/2 inch) cubed, peeled butternut squash ( 1.25 pounds or buy it precut to save time!)
2 1/2 teaspoons olive oil, divided
1/2 teaspoon kosher salt, divided
1/2 teaspoon freshly ground black pepper, divided
Cooking Spray
8 ounces uncooked cavatappi (other pasta will work but these are so cute!)
1 cup chopped onion
1 tablespoon minced garlic
1 cup 2%  milk, divided
1 teaspoon flour
2 large egg yolks
1/3 cup crumbled gorgonzola cheese (you can use blue if you prefer)
3 tablespoons chopped walnuts, toasted
Fresh Italian parsley for garnish
Directions
1.  Preheat oven to 425°.
2.  Combine squash, 1 1/2 teaspoons oil, 1/4 teaspoon salt, and 1/4 teaspoon pepper on a jelly-roll pan coated with cooking spray.  Bake at 425° for 25 minutes or until tender, stirring once.
3.  Cook the pasta according to package directions, omitting salt and fat.  Drain pasta; keep warm.
4.  Heat a medium saucepan over medium-high heat.  Add remaining 1 teaspoon oil to pan; swirl to coat.  Add onion and garlic; saute 3 minutes.  Reduce heat to medium-low.  Stir in 1/2 cup milk, remaining 1/4 teaspoon salt, and remaining 1/4 teaspoon pepper.  Combine remaining 1/2 cup milk, flour and yolks in a small bowl, stirring with a whisk.  Slowly add egg mixture to pan, stirring constantly with a whisk.  Cook 5 minutes or until thickened, stirring frequently with a whisk.
5.  Combine squash, pasta, and milk mixture in a large bowl; toss gently to coat.  Sprinkle with cheese and nuts. Garnish with parsley.