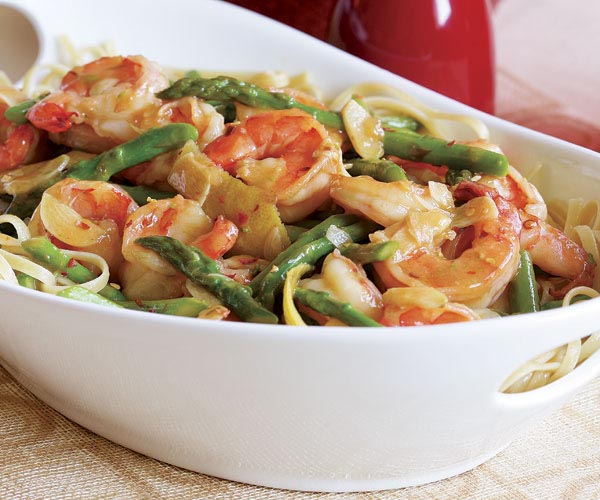 This is a meatless meal idea you'll want to keep in rotation long after Lent has ended. The combination of shrimp, lemon, and asparagus is a perfect Spring combination, and I love the use of linguine here (a pasta that gets far too little attention if you ask me!)
Next week, I'll share an Easter Brunch favorite as we head into a time of celebration and joy (and hopefully warmth! Brr!).
Lemon Linguine with Shrimp and Asparagus
serves 4
Ingredients:
8 oz. whole wheat linguine
4 Tbs. olive oil
4 cloves garlic, minced
1/2 cup onion
1 cup white wine
2 Tbs. butter
1 lb asparagus spears, cut into 1 inch pieces
1 lb shrimp, peeled and deveined
2 Tbs. lemon juice
Salt and Pepper
4 Tbs. fresh parsley
Directions:
Bring a large pot of water to a boil and cook pasta until al dente, 8 to 10 minutes.
Meanwhile, in a skillet heat olive oil over medium high heat, add in onions and garlic, cook until onions are tender. Pour in the white wine and simmer for 2 minutes. Stir in butter and asparagus, and cook until asparagus is tender, about 3 minutes. Then add the shrimp and lemon juice and cook until the shrimp are pink in color and no longer translucent. Season with salt and pepper to taste.
Toss the cooked penne pasta with asparagus, shrimp and sauce. Sprinkle liberally with fresh parsley and serve.