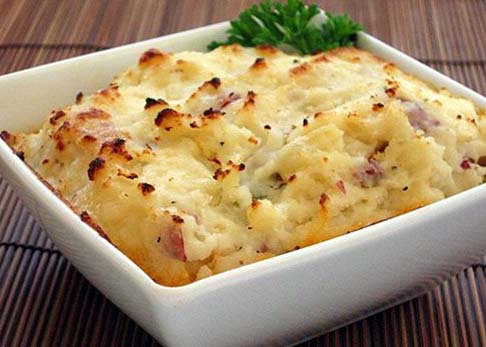 With Lent upon us, many of us are looking for meatless meal ideas that are warm and satisfying, and that keep us from resorting to ordering pizza or opening a box of macaroni and cheese.
To that end, here's a fantastic option that doesn't come up every day – shepherd's pie! Normally chock full of meat and vegetables, this version is meatless. And I have to say, the whole idea of covering a big pile of cooked vegetables with mashed potatoes and sticking it in the oven just delights me. Give this one a whirl on Friday – I think you'll love it!
Vegetarian Shepherd's Pie
Serves 4
Ingredients:
For the mashed potato crust:
3 large Russet potatoes, peeled, cut up
Milk, as needed (can use vegetable broth to be vegan)
Butter (or olive oil), to taste
Sea salt and fresh ground pepper, to taste
Chopped fresh chives, to taste
For the pie:
2 cups lentils
1-2 tablespoons extra virgin olive oil
1 teaspoon cumin or curry spice
4-5 cloves garlic, minced
1 1/2 cups cauliflower florets (about half a smallish head), cut to bite size
3 medium-large carrots, peeled and sliced into 1/4″ slices
1 zucchini squash, sliced and cut into quarters
1 yellow summer squash, sliced, cut into quarters
8 oz. button mushrooms
1 heaping cup shredded cabbage or slaw mix
1 14-oz. can Muir Glen Organic Diced Tomatoes, with juice
1 cup vegetable broth
1/2 cup red wine
1 tablespoon Worcestershire sauce or balsamic vinegar
1 tablespoon sage
Sea salt and fresh ground pepper, to taste
Directions
1.  Place the cut potatoes in a large pot and cover with salted cold water; bring to a boil and simmer until the potatoes are fork tender, about twenty minutes.
2. In a separate pot, combine 1 cup uncooked lentils and 3 cups water. Bring  the water to a rapid simmer over medium-high heat, then reduce the heat to maintain a very gentle simmer. You should only see a few small bubbles and some slight movement in the lentils. Cook, uncovered, for 20-30 minutes. Drain and set aside.
3. In the meantime, heat the olive oil in a large deep skillet and add the cumin or curry, and garlic. Stir one minute and add the fresh chopped vegetables. Stir and cook about five minutes. Add the canned diced tomatoes, wine, vegetable broth, Worchestshire sauce or balsamic vinegar, sage, sea salt and pepper, and stir to combine.
4. Bring to a simmer and cook until the sauce begins to reduce. You want the vegetables to be tender-crisp, not too done (as they are still going in the oven), and the sauce to be thickened a bit. Remove from heat, and gently add in the lentils. Set aside.
5.  Drain and mash the cooked potatoes with a little milk and butter (or broth and olive oil). Season with sea salt and pepper. Taste test and add more liquid or salt as needed.
6.  Preheat the oven to 350 degrees F.
7. Assemble the pie: Spoon the vegetables into a casserole dish. Top with mounds of mashed potatoes. (I like to leave a few peaks so it looks pretty after it bakes.) Sprinkle with chopped chives or parsley. Bake for 35 to 40 minutes, until the pie is bubbling and heated through.