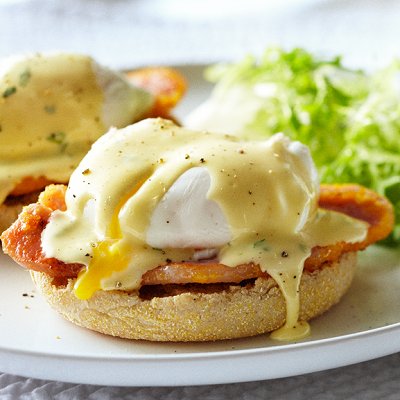 Is there anything on Earth that says "special occasion breakfast" more than Eggs Benedict? I think not. Which is why that is exactly the dish that popped into my brain when I was deciding which Easter Brunch recipe to share this year. I love a good French Toast Casserole , or Egg and Asparagus Strata, and don't even get me started on this Quinoa Egg Breakfast Bake, but sometimes nothing but the classic will do!
Better still, this version leverages what I call a "Quick Hollandaise" technique that reduces the risk of the sauce separating (the classic Hollandaise fail). You'll use a blender to make it happen – and just wait till you see how easy it is!
Now, these little yummies lean toward the indulgent with the Hollandaise, so if you're trying to be extra careful, use a light touch with the sauce. After all, you need some room for the chocolate and jellybeans coming your way later that morning!
Eggs Benedict (An Easter Brunch Classic)
serves 4
Ingredients:
8 slices of Canadian Bacon
8 large eggs
8  tsp. white vinegar
4 English muffins
20 Tbs. unsalted butter, melted
6 egg yolks, raw
2 Tbs. lemon juice
1 tsp. salt
Dash of cayenne pepper
4 tsp. fresh parsley, chopped
Directions:
1. Bring a large sauce pan filled 2/3 of the way with water to a boil, add in the white vinegar and bring back to a boil, then reduce heat and keep it barely at a simmer.
2. Cook Canadian bacon according to package instructions and keep warm.
3. In a blender combine egg yolks, lemon juice, salt and cayenne pepper and blend until combined.
4. Melt butter in microwave and slowly pour into the blender while it is running…the sauce should thicken almost instantly. Keep warm!
5. Crack each egg individually into a bowl and gently lower each egg into the water to poach. Once one begins to solidify, add another egg to the water until all 8 are cooking. Then turn off the heat, cover the pan and let sit for 4 minutes. Once they are finished cooking carefully remove with a slotted spoon.
6. While eggs are cooking, toast the English muffins.
7. To assemble, place one slice of Canadian bacon on each English muffin half, then gently place a poached egg on top of the bacon before spooning Hollandaise sauce over the egg. Sprinkle parsley on top before serving.