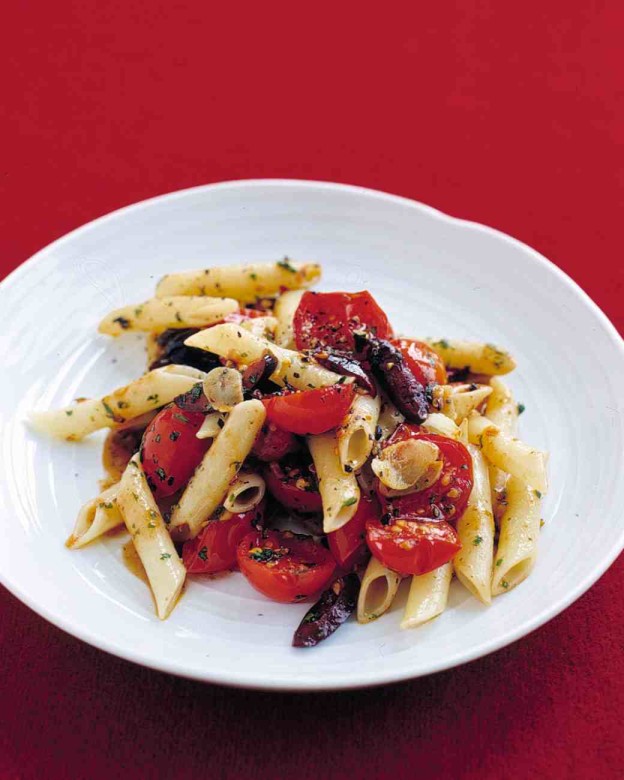 Next up in our meatless Lenten meals series is this one dish skillet penne. The beauty of this dish is that the whole thing cooks in ONE POT keeping the mess to a minimum and cleanup to minutes. It will seem a little strange to cook pasta in a nonstick skillet, but a pot is a pot, and this definitely works!
Once the pasta cooks, instead of draining it, you'll simply add the other ingredients, and the leftover thickened cooking liquid will form the basis for the sauce. Easy peasy.
Skillet Penne with Cherry Tomatoes, White Beans, and Olives
Serves 4
Ingredients:
2 cups low-sodium vegetable broth (or chicken broth)
2 cups water
8 ounces penne pasta (2 1/2 cups)
1 pint cherry tomatoes , halved
1 can (15 ounces) cannellini beans , drained and rinsed
1/2 cup chopped pitted kalamata olives
1/2 cup minced fresh basil
1/2 cup grated Parmesan cheese
2 tablespoons extra-virgin olive oil
Fresh lemon juice to taste
Directions
1. In a 12″ nonstick skillet, combine broth, water, penne, and 1/2 teaspoon salt. Cook over medium high heat, stirring often, until penne is tender and liquid has thickened, 15 to 18 minutes.
2.While the pasta cooks, cut the tomatoes and chop the olives.
3. Stir in tomatoes, beans, and olives, and cook until they are heated through, about 2 minutes.
4. Off the heat, stir in basil, Parmesan, and olive oil. Squeeze a lemon over the whole dish, and season with salt and pepper to taste. Serve.
* adapted from Cooks Illustrated