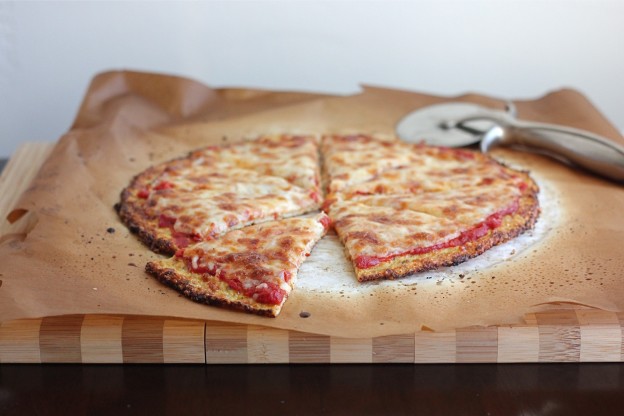 I had a ball on Fox19 this morning sharing three cool ways to cook cauliflower (which, you may have heard, is trending in 2014!). It's not surprising, since this humble veggie is incredibly versatile. It makes a great stand-in for potatoes when mashed and is a lifesaver for people living gluten free when transformed into…wait for it…PIZZA CRUST!
Here's the clip!
Cincinnati News, FOX19-WXIX TV
And here are the recipes.
Roasted Cauliflower with Parsley-Lemon Drizzle
Ingredients:
1 head cauliflower (about 2 lb.), cut into florets, including 
    tender leaves
5 tablespoons olive oil, divided
Kosher salt, freshly ground pepper
1 cup fresh parsley leaves
1/2 teaspoon lemon zest
2 tablespoons lemon juice
Directions:
1. Preheat oven to 425°. Toss cauliflower and 3 Tbsp. oil on a rimmed baking sheet; season with salt and pepper. Roast, tossing occasionally, until golden brown and easily pierced with a fork, about 25 minutes.
2. Meanwhile, combine parsley, lemon juice, and remaining 2 Tbsp. oil in a food processor until very finely chopped; season with salt and pepper. Toss cauliflower with lemon-parsley mixture and top with lemon zest.
Cauliflower Crust Pizza
Ingredients:
1 head (Small Head) Cauliflower
¼ cups Parmesan Cheese
¼ cups Mozzarella Cheese
¼ teaspoons Kosher Salt
½ teaspoons Dried Basil
½ teaspoons Dried Oregano
½ teaspoons Garlic Powder
Red Pepper Flakes
1 whole egg
1 c. pizza sauce
Additional mozzarella cheese and desired pizza toppings
Directions:
1. Heat a pizza stone at 450. Meanwhile, place a large piece of parchment on a cutting board and spray with cooking spray.
2. Wash cauliflower and cut off the florets. Dry with paper towels and pulse florets in  food processor for about 30 seconds, until you get 2-3 cups of powdery "snow like" cauliflower.
3. Place the cauliflower in a microwave safe bowl, cover, and cook on high for 4 minutes. Pour cooked cauliflower onto a clean tea towel and allow to cool for 3-5 minutes.
4. Wring out the cauliflower, squeezing out as much water as possible to ensure you get a chewy crust.
5. Pour squeezed cauliflower into a bowl and add Parmesan, mozzarella, salt, basil, oregano, garlic powder, and a dash of red pepper. Add the egg and mix with your hands and form a ball.
6. Press the dough into a crust on your oiled parchment paper. Pat it down thoroughly until it forms a pizza shape, making sure it sticks together.
7. Using a cutting board, slide the parchment paper onto your hot pizza stone (or baking sheet)in the oven. Bake 8-11 minutes, until it starts to turn golden brown. Remove from oven.
8. Top with pizza sauce, mozzarella cheese, and desired toppings. Cook 5-7 minutes more until cheese is bubbling.
Cauliflower Mashed "Potatoes"
Ingredients:
8 cups bite-size cauliflower florets (about 1 head)
1/3 cup nonfat buttermilk (add 1 Tbsp. at a time)
2 teaspoons butter
1/2 teaspoon salt
Freshly ground pepper to taste
Snipped fresh chives for garnish
Directions:
Place cauliflower florets in a steamer basket over boiling water, cover and steam until very tender, 12 to 15 minutes. (Alternatively, place florets in a microwave-safe bowl with 1/4 cup water, cover and microwave on High for 3 to 5 minutes.)
Drain VERY WELL and place the cooked cauliflower in a food processor. Add buttermilk (1 tablespoon at a time until desired consistency is reached), butter, salt and pepper; pulse several times, then process until smooth and creamy. Transfer to a serving bowl. Garnish with chives, if desired. Serve hot.