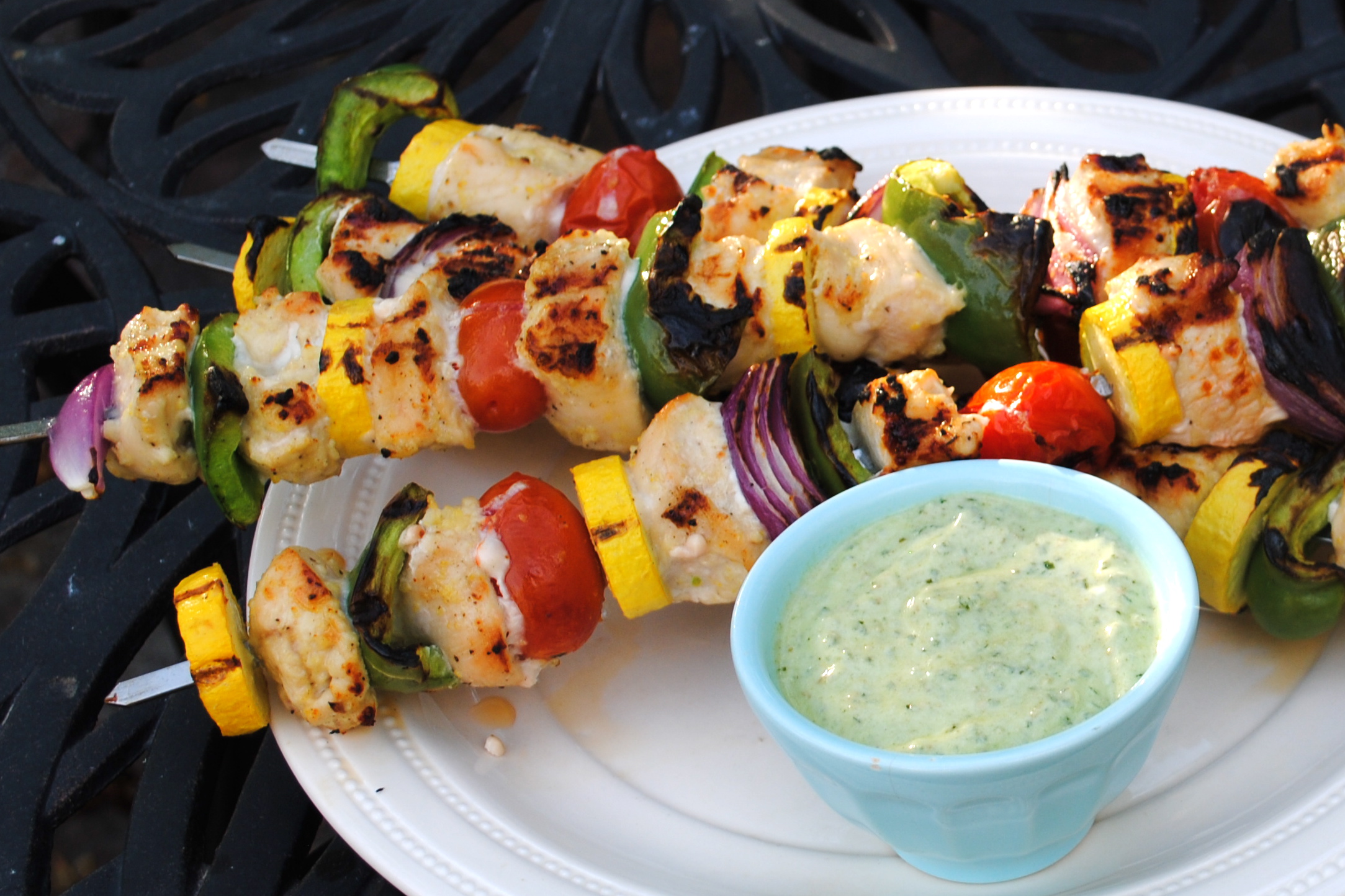 Nothing says Labor Day like a barbecue…and nothing upgrades a barbecue like a chicken and vegetable kebab with a creamy pesto dipping sauce! You'll have more energy for that game of volleyball or for a dip in the pool  if you eat something not quite as heavy as hamburgers, hot dogs, and potato salad drenched in mayonnaise.
I promise that this recipe is a cinch to double, triple, or quadruple if you're cooking for a crowd and your kids will love threading everything onto the skewers. Your guests will adore you for feeding them a meal they can feel great about eating that's delicious, too!
Chicken and Vegetable Kebabs with Creamy Pesto Dipping Sauce
serves 4

Ingredients
2 teaspoons grated lemon rind
4 teaspoons fresh lemon juice, divided
2 teaspoons minced garlic
2 teaspoons olive oil
1/2 teaspoon salt
1/4 teaspoon black pepper
8 (1 inch) pieces yellow bell pepper
8 cherry tomatoes
1 pound skinless, boneless chicken breasts, cut into 1 inch pieces
1 small red onion cut into 8 wedges
cooking spray
4 tablespoons plain nonfat Greek yogurt
1 tablespoon prepared pesto
Directions
1.  Preheat grill (or broiler).
2.  Combine rind, 1 tablespoon juice, garlic and next three ingredients.  Thread vegetables and chicken onto 4 (12 inch) skewers.  Brush with lemon/oil mixture. Place skewers on a hot grill or onto a  broiler pan coated with cooking spray.  Broil or grill 12 minutes or until chicken is cooked through, turning occasionally.
3.  Combine remaining 1 teaspoon juice, yogurt, and pesto.  Serve sauce with kebabs.