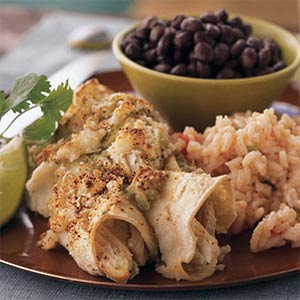 When your children take one bite and say "Mom, this is the BEST thing you've made in MONTHS," you know you have a winner on your hands. Friends, meet the meal that literally drew applause at the dinner table (Disclaimer: my children are just a teensy bit dramatic so those results may not be typical!). But honestly, this is a dish that is GREEN (thanks to salsa verde and cilantro) and has things SMUSHED TOGETHER (shreded chicken, cream cheese, and salsa verde stuffed into corn tortillas) and STILL the applause came. Beat that!
This is a great Sunday dinner because the chicken cooking and assembly takes a little bit of time but the process is actually kind of fun. Your children may even want to get in on the action once you have the elements in place on the counter. Who cares if the tortillas are rolled evenly? If they had a hand in making dinner, your odds of the kids eating it go up tenfold. (Second disclaimer: I'm about the farthest thing from a statistician you can get so tenfold may or may not be an accurate figure here, but you get my point.)
Okay, off to the kitchen you go. Make these. And for heavens sake, graciously accept the accolades that are coming your way!
Chicken Enchiladas with Salsa Verde
adapted from Cooking Light 2006

serves 4
Ingredients
1 cup chopped onion
1/4 cup chopped fresh cilantro
2 garlic cloves, minced
1 (7-ounce) bottle salsa verde (I like the Herdez brand)
2 cups shredded cooked chicken breast (about 1-1.5 lbs boneless breasts if you're cooking your own)
1/3 cup (3 ounces) lowfat cream cheese
1 cup fat free, less-sodium chicken broth (if you're poaching your chicken you won't need this – just use the water you cooked the chicken in!)
8 (6 inch) corn tortillas (I used a Chi-Chi's "flour and corn" variety – worked beautifully)
Cooking Spray
1/2 cup crumbled queso fresco (LOVE how this melts for enchiladas)
1/2 teaspoon chili powder
4 lime wedges
Cilantro sprigs (optional)
Directions
1.  Preheat oven to 425°.
2.  Combine first 4 ingredients in the food processor; blend until smooth. In a large bowl, mix shredded chicken with cream cheese and stir in 1/2 cup salsa mixture. Reserve remaining salsa mixture.
3.  Bring broth to a simmer in a medium skillet. Working with one tortilla at a time, add tortilla to pan; cook 10 seconds or until moist, turning once. Remove tortilla; drain on paper towels. Spoon about 1/4 cup chicken mixture down center of tortilla; roll up. (Hint: don't overfill these – it won't look like much but it will be plenty and you need to fill all 8 tortillas!) Place tortilla, seam-side down, in an 9 x 13-inch baking dish coated with cooking spray. Repeat procedure with remaining tortillas, broth, and chicken mixture.
4.  Pour remaining salsa mixture over enchiladas; sprinkle evenly with queso fresco and chili powder. Bake at 425° for 18 minutes or until thoroughly heated. Garnish with cilantro and serve with lime wedges. Gather compliments.