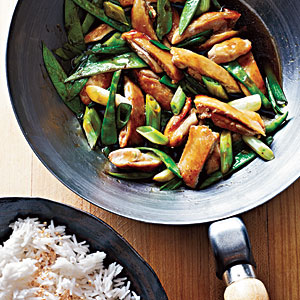 Japanese in origin, Yakitori sauce is a highly palatable, slightly sweet concoction that's easy to like. This version pairs it with chicken (thighs or cutlets), snow peas, and basmati rice in a delicious combination everyone at your table will love.
I'm using boil-in-bag basmati rice here but you can use brown rice, or any other rice you already have in the pantry (you DO have rice in the pantry, right?). Just follow the package directions for 4 servings.
Chicken Yakitori Bowl

Adapted from Cooking Light
Serves: 4

Ingredients:
2 (3.5 ounce) bags boil-in-bag basmati rice
1/4 cup lower-sodium soy sauce
1/4 cup mirin (sweet rice wine)
3 tablespoons sugar
1 tablespoon rice vinegar
2 tablespoons fat-free, lower-sodium chicken broth
3 teaspoons peanut  (or canola) oil, divided
1 pound skinless, boneless chicken thighs or breast cutlets
8 ounces snow peas, halved lengthwise diagonally
1 bunch green onions, cut into 1-inch pieces
Directions
1.  Cook rice according to package directions, omitting salt and fat.
2.  Combine soy sauce and next 4 ingredients (through broth) in a small saucepan; bring to a boil.  Reduce heat; simmer 3 minutes.  Remove from heat.
3.  Heat a large nonstick skillet or wok over medium-high heat.  Add 2 teaspoons oil to pan; swirl to coat.  Add chicken to pan; cook 3 minutes on each side or until browned.  Transfer to a cutting board; cool slightly.  Cut into (1-inch) strips.
4.  Return pan to medium-high heat; add remaining 1 teaspoon oil to pan.  Add snow peas and onions; saute 2 minutes.  Add soy sauce mixture and chicken to pan; cook 2 minutes or until liquid is syrupy and chicken is thoroughly heated, stirring frequently.  Place 1 cup cooked rice in each of 4 shallow bowls; top each serving with 1 cup chicken mixture.