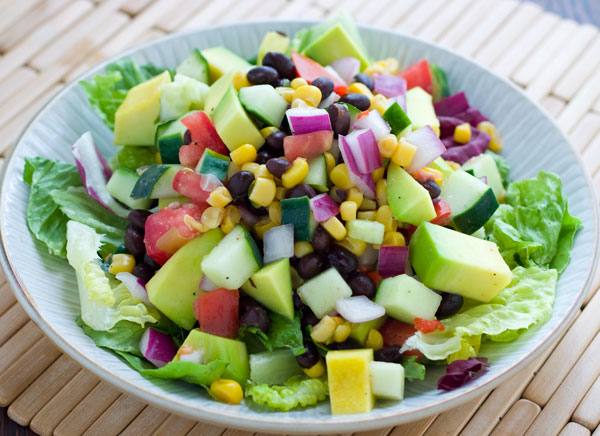 Sometimes when you throw a bunch of healthy ingredients in a bowl and add a homemade dressing, magic happens. That's definitely the case with this salad that combines a number of things you may already have on hand into one hearty, delicious chopped salad.
Now listen, salads are forgiving. They lend themselves to improvisation.  So don't hold back if you're missing one or two ingredients for this – you can make substitutions that sound good to you and I'll bet they'll work just fine. Be creative!
Chopped Salad with Lemon-Yogurt Dressing
makes 4 main course or 8 side dishes
Ingredients:
1 – 6 oz. container plain nonfat yogurt (Greek is fine)
1/4 cup chopped flat-leaf parsley
3 tablespoons canola oil (you want a neutral flavored oil for this – not olive)
3 tablespoons freshly squeezed lemon juice
1 garlic clove, pressed
salt and pepper to taste
8 large romaine leaves, coarsely chopped
1 1/2 cups cubed jicama (try apples or pears if you don't like jicama or don't have it)
2 carrots, sliced in half and thinly sliced
1 avocado, halved, pitted, peeled and sliced
1 cup thinly sliced celery
3/4 cup garbanzo beans, drained and rinsed
1/2 cup pitted Kalamata olives, sliced
1/2 cup thinly sliced radishes
1/4 cup roasted sunflower seeds (or seed or nut of your choice – I like it with toasted pumpkin seeds)
Directions:
1. In a small bowl whisk together yogurt through salt and pepper.
2. Toss remaining ingredients together in a large bowl. Add desired amount of dressing and toss to coat. Divide among plates and sprinkle with sunflower seeds.