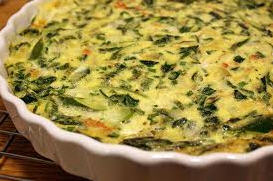 Here's a thought for Easter or one of the other myriad of Spring brunch occasions (Mother's Day, First Communion, Bridal Showers, Graduations, etc.).
You can certainly modify this recipe to suit your taste – change up the type of meat,  cheese, or combination of vegetables as you like. Let's just call this a good base from which your culinary creativity can spring forth!
Also, note that eliminating the crust is important here. Doing so saves a bunch of calories and fat that you'll never miss. To compensate, I kept the cheese. (I know. You're welcome.)
Serve this with a gorgeous bowl of fruit and steaming mugs of coffee and you'll have one happy bunch of brunch guests on your hands.
Crustless Smoked Turkey and Spinach Quiche
adapted from: Cooking Light 
serves 4-6
Ingredients:
cooking spray
4 oz. cubed smoked turkey (or ham)
1/2 cup chopped onion
1 clove garlic, minced
1/8 teaspoon black pepper
3/4 cup shredded Swiss Cheese, divided use
1 cup fresh baby spinach leaves (suggested substitutions: asparagus, mushrooms, zucchini, peppers, etc.)
1 cup cottage cheese
1/2 cup half & half
1/4 cup shredded extra-sharp cheddar cheese
2 large eggs
2 large egg whites
1/2 cup all-purpose flour
1 teaspoon baking powder
Directions:
1. Preheat oven to 350 degrees.
2. Heat a large nonstick skillet over medium-high heat. Spray generously with cooking spray. Saute turkey, onion, garlic, and ground pepper for 4 minutes, or until turkey is lightly brown and onions are softened.
3. Coat a 9-inch pie plate with cooking spray. Sprinkle with 1/4 cup of the shredded Swiss cheese on the bottom. Top with the turkey and onion mixture.
4. In a large bowl, combine the remaining 1/2 cup Swiss cheese, spinach, half & half, cottage cheese (for a smoother texture, combine half & half and cottage cheese in a blender until smooth), cheddar cheese, and eggs. Stir with a whisk.
5. Combine flour and baking powder in a small bowl. Add flour mixture to egg mixture and stir with a whisk until combined. Pour egg mixture into pie plate over turkey mixture.
6. Bake for 45 minutes or until a knife inserted in the center comes out clean.