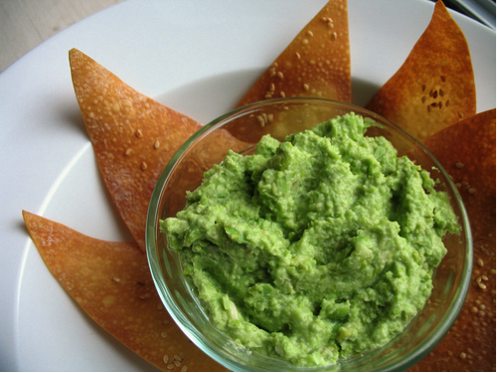 With the littles home from school and many adults taking some time off from work, you may find yourself serving up snacks to a hungry crowd this week! After a few days of cheese platters and cookies, you're probably ready for something a little healthier. Hummus is one of my staples, but this edamame version is a nice way to mix it up. Plus, it's green, which makes it instantly holiday ready!
You can buy edamame still in the pods (like you'd find at an Asian restaurant as an appetizer) or shelled. For this, you want the shelled kind, which look sort of like lima beans and are in the frozen foods aisle (sometimes in the organic section of the store).
Just a quick whir in the food processor and your healthy afternoon snack is served!
Edamame Hummus
Ingredients:
1 (12 oz.) package frozen, shelled edamame
2 cloves garlic
1 can chickpeas, drained
½ cup tahini
¾ cup water
½ cup cilantro leaves
¼ cup lemon juice
3 Tbs. extra virgin olive oil
1 tsp. salt
¾ tsp. ground cumin
1/8 tsp. cayenne pepper
Directions:
1. Place edamame in a pot of salted water and bring to a boil. Turn down to a simmer, cover and cook for about 5 minutes. Drain.
2. In a food processor puree garlic cloves, and then add remaining ingredients including drained edamame, and blend until smooth. If it is too chunky add up to ¼ cup more water.
3. Serve with carrots, celery, snap peas, broccoli, cauliflower, and/or tortilla crisps as dippers.