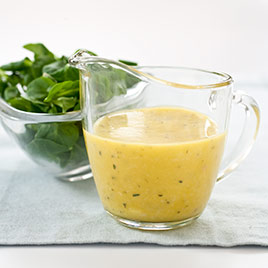 If you're still buying salad dressing at the store, it's time to make your move! Having a good, basic vinaigrette in the fridge that you made with your own two hands is liberating…and delicious. This one uses ingredients you probably already have on hand and a simple mason jar. Once you master the technique, you can riff off of this, using different acids (lime or lemon juice for example, or balsamic vinegar) different oils (canola oil, safflower oil, walnut oil) and different flavor boosters (garlic, shallots, thyme, parsley, cilantro, ginger, etc).
We'll build out your collection of dressings over time, but try this one to get the ball rolling. Trust me, your salad will thank you!
PS – This will keep for a week or more in the fridge, and by then you'll be ready to whip up a new batch anyhow!
Everyday Vinaigrette
Serves 8
Ingredients:
3 Tablespoons red wine vinegar
2 Tablespoons finely chopped shallots
2 garlic cloves, minced
2 teaspoons chopped fresh thyme leaves
1 1/2 teaspoons Dijon mustard
1 teaspoon agave nectar or honey
1/2 teaspoon freshly ground black pepper
1/4 teaspoon kosher salt
1/4 cup extra-virgin olive oil
Directions:
Place all ingredients in a glass jar with a lid and shake till emulsified. Or, place all ingredients in a glass bowl and combine with a whisk till combined.