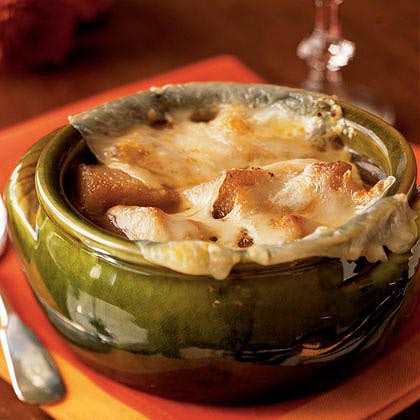 When January rolls around, everyone I know is torn between their desire to lighten things up food-wise and their yearning for the warm, comforting dishes that are the hallmark of winter. I think soup strikes the perfect balance.
Done well, soup is a satisfying meal that won't break the bank on calories or fat. A pot of simmering soup on the stove makes me feel like everything is right with the world. So this month, I'm bringing you a soup series on the blog. Try a different one every weekend – enjoy the chopping and simmering and especially the amazing aromas that will fill your kitchen.
We're starting with French Onion Soup, which I remember ordering in restaurants when I was a child. I loved how the cheese melted over the sides of the crock and the slice of bread soaked up the broth. I still do. But most of the time, French Onion soup is overly salty and dripping with cheese. This version uses low-sodium beef broth and just enough cheese to give you the authentic experience without going over the top.  Enjoy!
It's January. Soup's on.
French Onion Soup

Serves: 4

Ingredients:
1 Tablespoon butter (or olive oil)
5 medium onions (a mix of yellow and red is ideal), sliced
1/2 teaspoon salt
2 bay leaves
6 cups low-sodium beef broth (I like the Pacific Foods brand)
1/2 cup dry red wine (Cabernet Sauvignon, Merlot)
4 or 5 sprigs fresh thyme
Freshly cracked pepper
4 slices of baguette or sourdough bread
1/2 cup shredded Swiss cheese
Chopped parsley (optional)
Directions
1.  Heat the butter in a large stock pot over low heat.  Add the onions and salt.  Cover the pot and cook the onions over VERY low heat until very soft and caramelized, about 30 minutes.  (Most of this time they can be left unattended if the heat is low enough.  Check on the onions every 10 minutes or so to stir.)
2.  Add the bay leaves, broth, wine, and thyme.  Simmer on low heat for at least 15 minutes.  Season with pepper.  Discard the bay leaves.
3.  Preheat the broiler.  Divide the soup among 4 oven-proof bowls.  Top each with a slice of baguette and some cheese.  Broil until the cheese is melted and bubbling, about 3 minutes. Garnish with additional fresh thyme leaves or chopped parsley.