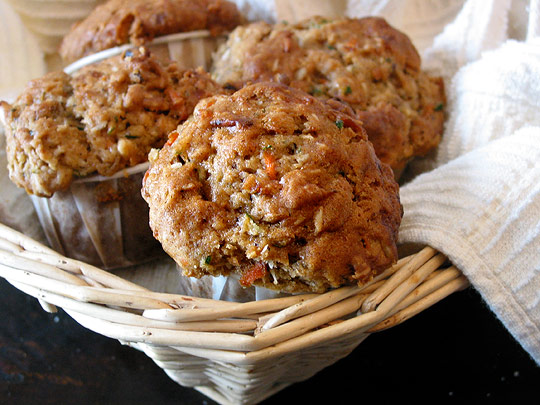 Before we all dive headfirst into all things pumpkin (which, for the record, is a passion I reserve for October), here's a recipe using the last of the summer zucchini harvest.  I promise it works just as well with zucchini you buy at the store if you aren't sitting on a stash you grew in your own garden (like, ahem, me).
These are sweet and tender and perfectly spiced with cinnamon and nutmeg. The zucchini and carrots are the secret weapons  keeping them moist (much like bananas in banana bread – all the moisture just seeps out into the muffin keeping them from drying out!)
Once these are baked, try freezing some and packing them next week in school lunches as the treat. Your kids will be delighted and you'll have a grab-and-go homemade dessert option at the ready.
Fresh Zucchini Muffins
Makes about 12 muffins
Ingredients:
1.5 cups all-purpose flour
1/2 cup white sugar
1/2 cup packed brown sugar
1 1/2 cups grated zucchini (about 2 small to medium-size squash)
1/2 cup grated carrot
1/2 tsp. salt
2 eggs
1/2 tsp. cinnamon
1/4 tsp. nutmeg
1 tsp. vanilla extract
1/3 cup canola oil
2 tsp. baking powder
Cinnamon and sugar for topping
Directions
1. Preheat oven to 375. In large bowl, whisk together flour, sugars, salt, baking powder, cinnamon, and nutmeg. Set aside.
2. In medium bowl, combine grated zucchini, eggs, vanilla, and oil. Stir well to combine, then gently stir into flour mixture. Be careful not to overwork the batter – doing so will lead to dense muffins, and who wants those?
3. Fill lined muffin tins about 3/4 of the way with the batter and then sprinkle cinnamon and sugar on each. Bake for about 30 minutes or until golden brown on top and a toothpick comes out clean.