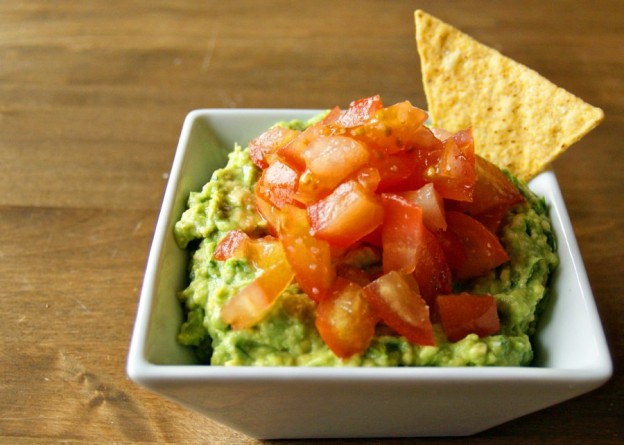 I don't know about the rituals in your house, but in mine, March Madness is a pretty big deal. Which means I'm heading into a week chock-full of basketball. Which means snacks. Because really, who can watch a NCAA game without snacks? This year, the action begins just after St. Patrick's Day so I'm killing two birds with one stone and offering up a GREEN snack. I'm nice like that. So here it is – a delicious little guacamole that can fit the bill for that lepruchaun party you know you want to throw or for your March Madness extravaganza.
And yes, I am aware that guacamole is not Irish, but then again, neither was St. Patrick. Did you know?
Game Day Guacamole
adapted from Food Network
Yields: 3-4 cups
Ingredients:
6 ripe avocados (halved and pitted)
2 tomatoes (seeded and finely chopped)
1 ½ limes, juiced
1 medium sweet onion, chopped
1 garlic clove, minced
2 serrano chiles, minced
1 handful fresh cilantro with stems, finely chopped
Extra-virgin olive oil
Kosher salt
Freshly ground black pepper
Directions:
1. Scoop the avocado from the outer shell using a large spoon, and mash with a fork.
2. Add the lime juice, onion, garlic, and chiles.
3. Add a drizzle of olive oil plus salt and pepper to taste. Stir to combine.
4. Garnish with chopped tomato and fresh cilantro. Cover tightly with plastic wrap and refrigerate.
5. Serve with tortilla chips.