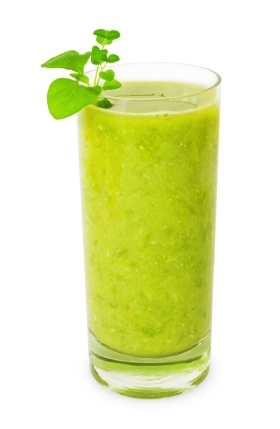 Let's wrap up March with one more green recipe. When I'm asked for recipes these days, green smoothie requests are near the top of the list, so here's one to add to your repertoire.
I promise you that smoothies are quite versatile (forgiving, even) so feel free to make substitutions or additions to the recipe below. You can't really make a mistake with this.
Incidentally, if you're turned off by the idea of drinking something so GREEN, my suggestion is to put it in an opaque cup with a lid, and drink it through a colored straw! You'll never even notice the color…just the vibrant fresh flavor.
Grab 'n' Go Green Smoothie
Serves: 1
Ingredients:
2 cups baby spinach leaves
1 banana, cut into slices
2 kiwi, cut into chunks
1/2 cup plain nonfat Greek yogurt
1/4 cup apple juice
2 tbsp honey
¾ cup crushed ice (less or more as desired)
Directions:
1. Place all ingredients except the ice in a blender and blend until smooth. Add ice in small increments until desired thickness is reached.