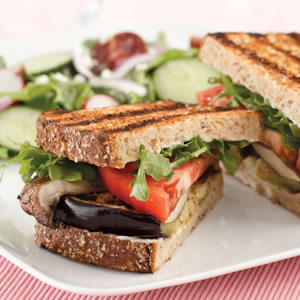 If there's a Fourth of July cookout in your plans next week and you need a break from hamburgers and hot dogs, then this is your lucky day. This is easy enough for a backyard cookout but special enough for a casual dinner party.
Pair these sandwiches with some grilled corn on the cob and a watermelon and feta salad and you have yourself a meal to celebrate your freedom from barbecue boredom!
Grilled Eggplant & Portobello Sandwich
adapted from Eating Well
serves 4
Ingredients:
1 small clove garlic, chopped
1/4 cup low-fat mayonnaise
1 teaspoon lemon juice
1 medium eggplant (about 1 pound), sliced into 1/2-inch rounds
2 large or 3 medium portobello mushroom caps, gills removed
Canola or olive oil cooking spray
1/2 teaspoon salt
1/2 teaspoon freshly ground pepper
8 slices whole-wheat sandwich bread, lightly grilled or toasted
2 cups arugula, or spinach, stemmed and chopped if large
1 large tomato, sliced
Directions:
1.  Preheat grill to medium-high.
2.  Mash garlic into a paste using the back of a spoon. (It works well on a cutting board.) Combine mashed garlic with mayonnaise and lemon juice in a small bowl. Set aside. (You've just made aioli – congratulations!)
3.  Spray both sides of the eggplant slices and mushroom caps with cooking spray and season with salt and pepper. Grill the vegetables, turning once, until tender and browned on both sides. This should take 2-3 minutes per side for the eggplant and 3-4 minutes for the mushrooms. Allow to cool a bit and then slice the mushrooms.
4.  Spread 1 1/2 teaspoons of the garlic mayonnaise (aioli) on each piece of bread using a pastry brush or a knife. Layer the eggplant, mushrooms, arugula (or spinach) and tomato slices onto 4 slices of bread and top with the remaining bread to make sandwiches.