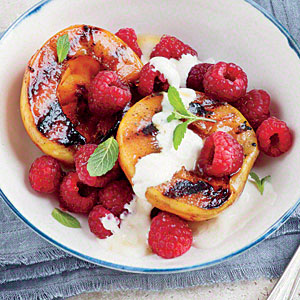 I really want to get this recipe into your hands before summer unofficially ends as school begins. Some of you may have already crossed that threshold, but here in Ohio, we have one last weekend of summertime bliss before we put our backpacked bundles of joy onto the bus next week.
If you want to hold onto the last wisps of summer, this dessert will do it. A simple grilled peach topped with honey cream is an amazing way to end a Sunday evening. This "cream" is actually made by thinning out a little nonfat Greek yogurt to make a deliciously sweet topping for a perfectly ripe peach. Another summer in the books. I hope yours was a great one.
Grilled Peaches with Honey Cream
adapted from Cooking Light
Serves 4
Ingredients:
2 tablespoons unsalted butter, melted
2 tablespoons honey, divided
1/4 teaspoon ground cardamom (optional)
Dash of kosher salt
4 medium peaches, pitted and halved
Cooking Spray
1/3 cup plain fat-free Greek yogurt
2 1/2 tablespoons half-and-half
1/4 teaspoon vanilla extract
1 cup fresh raspberries
Directions:
1. Mix melted butter, 1 tablespoon honey, cardamom (optional), and salt in a bowl. Add peaches, toss to coat, and allow to stand for 5 minutes.
2. Heat grill to medium. Rub grates with oil and arrange peaches on grill; cook 2 minutes on each side or until grill marks appear.
3. Combine yogurt, half-and-half, remaining 1 tablespoon honey, and vanilla in a small bowl; stir with a whisk. Serve over with peaches and fresh raspberries.