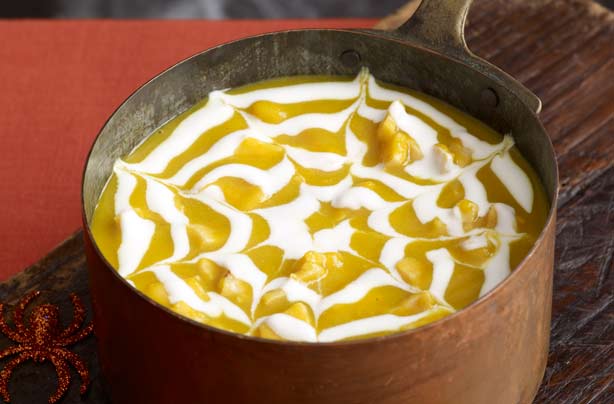 We're knee-deep in soup weather these days and I especially like to have a big pot on the stove on Halloween night so that I can spend my time bundling up my little trick-or-treaters after exhausting them with 452 pictures of them in their costumes! (What is it about a mom with a camera on Halloween?!)
This is a rich chowder full of fall vegetables, mostly pureed, but with some extra corn added and fresh spinach wilted in for texture. If you're making this soup in advance, reserve the spinach leaves and stir them in when you're heating the soup before serving.
Then, if you decide to go completely over the top and do something like, oh, say, add a SPIDERWEB to the top of the soup before you serve it, I say go for it! (Pipe a swirl of sour cream onto the top and then drag a toothpick through the lines to get this look.)
Halloween Harvest Chowder

Yields 6 servings
Ingredients:
1 medium yellow onion, peeled and diced (about 1 cup)
3 celery stalks, diced (about 1 cup)
2 medium carrots, peeled and diced (about 1 cup)
6 cups vegetable stock (or chicken stock)
2 small zucchini diced
2 small sweet potatoes, peeled and diced
4 bay leaves
2 tablespoons thyme
2 cups frozen corn
4 cups packed spinach leaves
Directions
1. Place the onion, celery, carrots, and 1/2 cup of vegetable stock in a large soup pot and saute over medium heat for 6-8 minutes, or until the onion is translucent.
2. Add the zucchini, sweet potatoes, bay leaves, thyme, and the remaining broth and bring to a boil over high heat. Reduce the heat to medium-low and simmer for 20-30 minutes or until the vegetables are tender.
3. Add 1 c. of the corn and cook for 10-15 more minutes. Remove the bay leaves.
4. Puree the soup using immersion blender (or in batches in a blender with a tight fitting lid). After pureeing, add the remaining corn and spinach leaves. Cook for 5 more minutes or until the spinach is wilted. Stir well and serve hot.