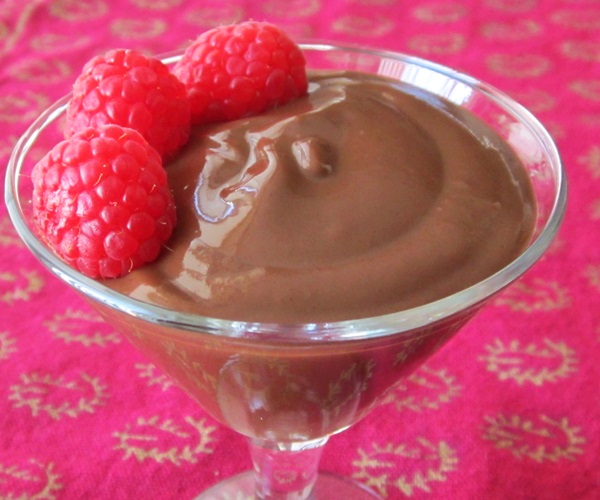 Just four more days till you can shower the people you love with love…hugs and kisses and all sorts of cuter-than-cute pink and red creations will be flying around on the 14th. I, for one, can't wait. I'm not so big on the drippy overwrought romantic side of Valentine's Day but how can you resist a homemade valentine card from a 4 year old? In our house, there will be heart-shaped pancakes with strawberries for breakfast, love notes in the lunchboxes, and an after-school treat like this one.  Sounds like the recipe for a picture-perfect Valentine's Day to me!
Making this all natural homemade pudding is barely more difficult than making pudding from a box but the results are so much better. Besides, when is the last time you tasted warm chocolate pudding? Wow. Top this with a dollop of whipped cream and you'll be the sweetest part of Valentine's Day!
Healthy Chocolate Pudding
adapted from Oprah.com
serves 4
Ingredients:
1/4 cup cornstarch
2 tablespoons sugar
3 tablespoons unsweetened cocoa
1 ounce dark chocolate, cut into small pieces
2 1/2 cups fat-free milk
Fresh raspberries for garnish
Directions:
1. In a medium saucepan combine cornstarch, sugar, cocoa, and dark chocolate. Heat over medium heat.
2. Gradually add the milk, stirring constantly until mixture comes to a boil.
3. Let boil for one minute, stirring constantly.
4. Remove from heat and transfer to small dessert cups. Refrigerate until firm (if you can stand the wait), top with raspberries, and serve.