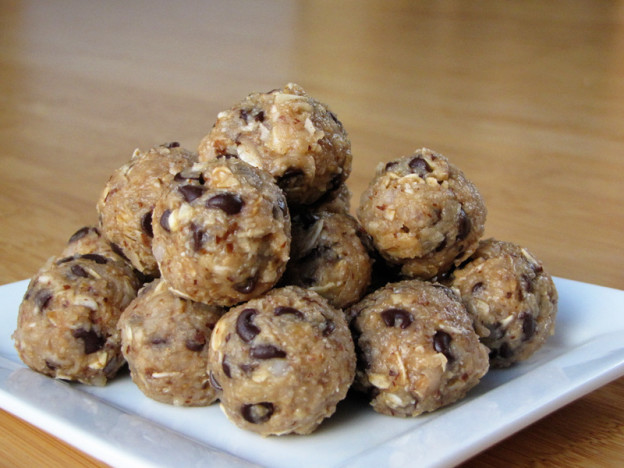 This morning on Fox19 Cincinnati, I shared some ideas for healthy travel snacks to keep you on track, and out of the convenience store candy aisle! Here's the video…then keep reading for the tips and recipe!
Click here for the Fox19 video clip
Cincinnati News, FOX19-WXIX TV
In general, when we're heading off on a road trip, I like to pack a small cooler with:
Fruits & Vegetables (whole or cut fruit, cut up veggies in small containers with a separate container of hummus or dip)
Proteins (rolled up turkey or ham, hard boiled eggs, cheese sticks)
High quality carbs (high fiber low sugar choices like Triscuits, Flax Crackers, or a cereal like Kashi Heart to Heart
Even with great choices like those in tow, my kids are often still looking for something sweet and chewy…and I'll admit we often pack "energy bars" to satisfy the craving. Clif Z Bars are my kids' favorite and they're not a bad choice.
But, with just a few minutes in the kitchen, you can make these homemade energy bites – they're all natural and absolutely delicious. The kids will love getting their hands into the process and then they can pop the perfect size bite when hunger strikes!
Enjoy, travel safely, and stay healthy this summer!
No-Bake Energy Bites
Makes 20+ bites
Ingredients:
1 cup old fashioned rolled oats
3/4 cup unsweetened coconut flakes
½ cup ground flaxseed (you'll find this in the organic section with the alternate flours)
½ cup mini chocolate chips
½ cup raisins
½ cup peanut butter (or almond butter or sunflower seed butter)
⅓ cup honey
1 tsp. pure vanilla extract
In a bowl, stir together oatmeal, coconut flakes, flax seed, mini chocolate chips and raisins.
In a separate small bowl, whisk together the peanut butter, honey and vanilla till smooth.
Pour peanut butter mixture into dry ingredients and mix with a spoon or your hands until thoroughly blended. it will look like granola at this stage.
Let chill in the refrigerator for at least half an hour. Once chilled, roll mixture into balls and store in an airtight container. These will keep refrigerated for up to 1 week.