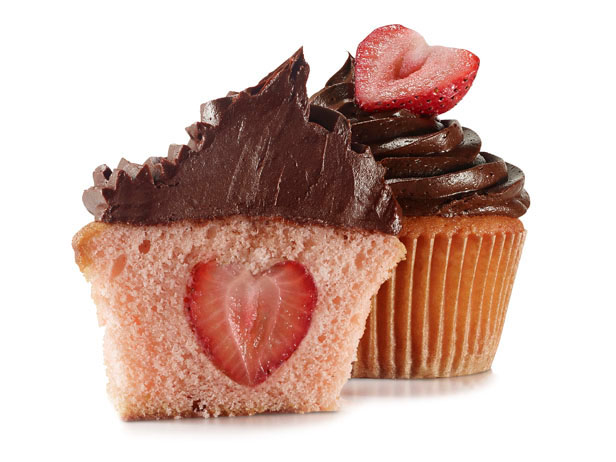 True confession. Valentine's Day is one of my most favorite days of the year. It's not that I do anything particularly romantic (sorry, honey) – it's just all that red and pink cuteness! I adore the decorations, the store displays, the homemade valentine ideas (God bless you, Pinterest), and especially the chocolate creations that are positively encouraged on the 14th.
So as we head into Valentine's Day, here's an adorable idea that will make your kids and your sweetheart equally happy. These are not exactly health food, but you won't care. Enjoy, my loves.
PS – Next week – a romantic dinner menu idea just in case you're in need of one for Valentine's Day! I'll post it on Thursday so you have time to shop….
Hidden Heart Cupcakes
adapted from Food Network
Yields: 6 jumbo cupcakes
Ingredients:
For the cupcakes:
1 1/2 cups all-purpose flour
1 1/2 teaspoons baking powder
1/2 teaspoon salt
1 stick unsalted butter, at room temperature
3/4 cup granulated sugar
2 large eggs, at room temperature
1 teaspoon vanilla extract
1/2 cup Horizon strawberry milk, at room temperature (I KNOW, right?)
6 whole strawberries, hulled
For the frosting and topping:
2 cups confectioners' sugar
1/2 cup unsweetened cocoa powder
1 stick unsalted butter, at room temperature
1/2 cup heavy cream
3 strawberries, hulled and halved lengthwise, for garnish
Directions:

Cupcakes:
1. Preheat oven to 350 F.
2. Ideally, use a 6-cup jumbo muffin pan. Line the pan with cupcake liners. Mix the flour, baking powder, and salt together in a bowl.
3. Then, in a large bowl, beat the butter and sugar with a mixer (medium-high speed) for about three minutes. Slowly add in the eggs and the vanilla while continuing to beat the mixture. Reduce the mixer speed and slowly alternating adding in the the flour mixture and milk.
4. Fill the muffin cups and bake for 25-30 minutes (or until a toothpick comes out clean).
5. After the cupcakes cool, use a paring knife to cut a cone shaped piece of cake out of the top of each cupcake (abotu the size of the strawberry), stopping 1/2″ from bottom. Insert the strawberry, then cover with a small piece of the removed cake. See photo.
Frosting:
1. Sift the confectioners' sugar and cocoa powder together and then split it in half.
2. Add the butter and ¼ cup of the cream to one of the halves and beat on medium-high speed.
3. Add the remainder of the sugar-powder mixture and ¼ cup cream and beat again until fluffy.
4. Frost the  cupcakes and top with half of a strawberry.