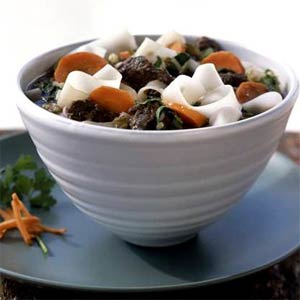 I think a "hot pot" is just what this weather calls for! Whether you're in the Polar Vortex or not, you'll love this deliciously complex soup that has its origins in East Asia.  I wasn't sure how my kids would feel about this choice, but they REALLY liked it. Adding the sliced bok choy at the end preserves the texture of the greens. And when you serve this over noodles, it's hearty enough to eat with a knife and fork, like a stew!
Beef and Bok Choy Hot Pot
adapted from Cooking Light
Serves 4
Ingredients
2 1/4 cups water
2/3 cups low sodium beef broth
1/3 cup rice vinegar
1/3 cup low sodium soy sauce
2 Tablespoons brown sugar
1/4 teaspoon ground cinnamon
1 Tablespoon vegetable oil
1 pound sirloin, cut into bite size pieces
1 1/4 cup chopped green onions
1 teaspoon minced peeled fresh ginger
1 garlic clove, minced
2 cups thinly sliced bok choy
2 cups thinly sliced carrot
2 cups wide rice noodles, cooked according to package directions
Directions
1.  Combine first 6 ingredients, stirring with a whisk, set aside.
2.  Heat oil in a large Dutch oven over medium high heat, add beef browning all sides.  Add broth mixture, onions, ginger, and garlic.  Bring to a boil.
3.  Cover, reduce heat, and simmer 1 hour and 15 minutes or until beef is tender.  Add carrots and cook 15 more minutes. Stir in bok choy; cook 5 minutes or until tender.   Serve stew mixture over warm noodles.