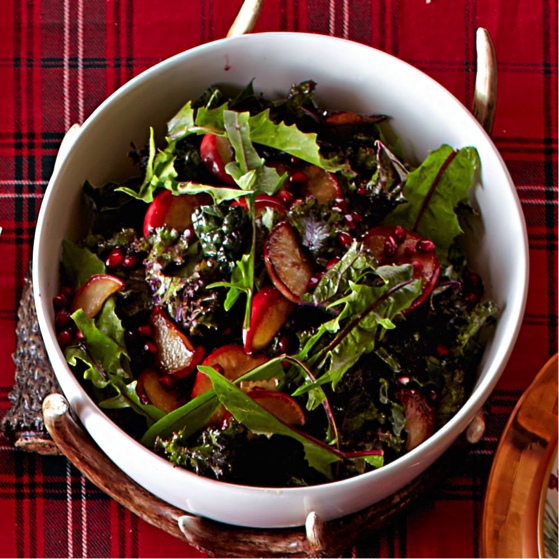 Salad doesn't have to be boring. In fact, this combination of sweet cooked apples, freshly made mustard-cider dressing and bright pomegranate seeds atop hearty, mixed kale is anything but! It's the antidote to the winter blahs – when paired with a loaf of warm, crusty whole grain bread, this has all the makings of a perfect Saturday winter lunch if you ask me. 
Kale Salad with Roasted Apples and Pomegranate
Ingredients:
4 medium sized apples (Fiji or any in season), cored and cut into wedges
5 Tbs. olive oil
2 Tbs. apple cider vinegar
1 Tbs. brown sugar
2 tsp. Dijon mustard
½ bunch kale, stems removed and chopped (or baby kale)
½ bunch purple kale, stems removed and chopped  (or baby kale)
4 oz. mixed baby greens
¼ cup pomegranate seeds
Salt and pepper
Directions:
1. Preheat oven to 450.
2. In a bowl toss apples in 1 Tbs. olive oil and lay the apples out flat on an aluminum foil lined baking sheet. Bake for 15-20 minutes until soft and golden.
3. While apples cook, in a small bowl whisk together vinegar, brown sugar, and Dijon mustard. Once combined slowly add in remaining 4 Tbs. of olive oil whisking consistently.
4. In a large bowl toss the kale, baby greens, warm apples, and vinaigrette. Top with pomegranate seeds and serve.
Nutrition Facts
This recipe has 8 servings. Total Calories: 157, Total Fat: 7 grams, Protein: 3 grams, Cholesterol: 0 mg, Sodium: 72 mg, Carbohydrates: 22 grams, also includes Vitamin A, Vitamin C, Iron, and Calcium.