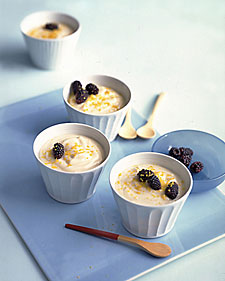 School's out for summer! And now I'm ready to glide into the easy, breezy days of summer entertaining. I have visions of myself  hosting dinner al fresco for eight or ten friends and serving lovely little nibbles. And then I remember that while I used to be a frequent hostess of those kids of summer soirees, I now have three (amazing, well-loved, totally worth it) children who render my dinner parties infrequent occasions.
Nonetheless, if you're dining at my house this summer, you just may be eating this for dessert. All natural, vegetarian, fresh and delicious. Plus it has blackberries which are decidedly one of the best fruits on the planet. You can, of course, substitute other berries or even some diced kiwi or mango if you'd prefer. But I'm a blackberry kind of girl, especially when there are no little fingers at the table to squish them into stains on sundresses and seersucker shorts.
Lemon Cream with Fresh Blackberries
adapted from Whole Living
serves 4

Ingredients
1 tablespoon grated lemon zest
1/4 cup fresh lemon juice
1/2 cup honey (or agave nectar if you want to keep this vegan)
1 package (12 ounces) silken tofu, drained
1 cup fresh blackberries
Mint leaves to garnish

Directions
1. Puree 2 1/2 teaspoons of the lemon zest, lemon juice, honey, and tofu in a food processor or blender till smooth, scraping down the sides as necessary. You can use an immersion blender for this step, too.
2. Divide lemon cream evenly among four small ramekins or serving glasses. Garnish each portion with blackberries, reserved lemon zest, and mint leaves. Serve immediately or refrigerate.