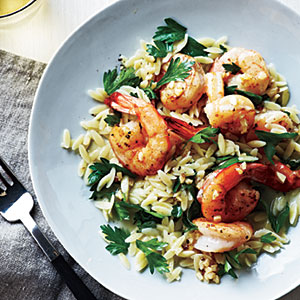 Who DOESN'T love a good shrimp scampi? It's one of my favorites, but since it's usually swimming in butter and oil and piled onto a heap of white pasta, it's not something I eat regularly.
Yet, by making just a few quick modifications,  you get THIS – using whole wheat orzo, jumbo shrimp, and just enough butter to leave you with a big smile on your face. If you've steered away from Shrimp Scampi of late, it may be time to revisit the idea.
Incidentally, if you're not eating pasta because you're eating Paleo or Gluten Free, this would be great over "zucchini pasta ribbons" like the ones I've linked to here in place of the orzo.
Lemon Pepper Shrimp Scampi
adapted from Cooking Light
Serves: 4
Ingredients:
1 cup uncooked whole wheat orzo
2 tablespoons chopped fresh parsley
1/2 teaspoon salt, divided
7 teaspoons unsalted butter, divided
1 1/2 pounds peeled and deveined jumbo shrimp
2 teaspoons minced fresh garlic
2 Tablespoons fresh lemon juice
1/4 teaspoon freshly ground black pepper
Directions:
1. Cook orzo according to package directions, omitting salt and fat. Drain. Place orzo in a medium bowl. Stir in parsley and 1/4 teaspoon salt; cover and keep warm.
2. While orzo cooks, melt 1 tablespoon butter in a large nonstick skillet over medium-high heat. Sprinkle shrimp with remaining 1/4 teaspoon salt. Add half of shrimp to pan; sauté 2 minutes or until almost done. Transfer shrimp to a plate. Melt 1 teaspoon butter in pan. Add remaining shrimp to pan; sauté 2 minutes or until almost done. Transfer to plate.
3. Melt remaining 1 tablespoon butter in pan. Add garlic to pan; cook 30 seconds, stirring constantly. Stir in shrimp, juice, and pepper; cook 1 minute or until shrimp are done.