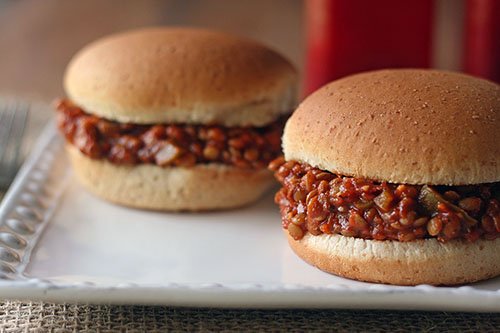 A guest post by Gwen Barron
What are you having for dinner on Monday? Who knows, right?  It's only Friday! But if you want an easy way to narrow your choices, why not consider making Meatless Mondays a regular part of your life? It's an approach that takes the guesswork out of the start of every week.
As a student, Meatless Mondays make sense for my lifestyle from a financial perspective since the ingredients often cost less than meat, but there are also health and environmental benefits that sweeten the deal.
First, by definition, Meatless Monday meals will probably include a whole grain, legume, fruit, or vegetable. Most often, they're a combination of more than one of those things. As a result, we're fueling up with nutrient-packed foods that help us maintain a healthy weight, prevent disease, and live longer.
When we eat less meat, we also help out the environment by reducing our carbon footprint, water usage and fossil fuel dependence. And in this case, the recipe uses the slow cooker, so it's a time-saver too!  Lentil Sloppy Joes swap fiber and protein rich lentils for ground beef, but once you add the sauce, you'll barely notice the lack of meat – give them a try and see what you think and when you do, tweet a picture of your end result to @NourishTweets !
Lentil Sloppy Joes
Adapted from Eat Laugh Love
Serves 4-5
Ingredients:
1 cup brown or green lentils, rinsed and picked over
1 1⁄2 cups low-sodium vegetable broth
1 (15-ounce) can tomato sauce
1⁄4 cup +1 T tomato paste
1 red bell pepper, chopped
1 T apple cider vinegar
1 T garlic, finely minced
1 1⁄2 teaspoons oregano
1 1⁄2 teaspoons smoked paprika
1 T chili powder
2 teaspoons dried parsley
Salt and pepper to taste
Pinch of cayenne pepper or 1 teaspoon red pepper flakes (optional, to taste)
Directions:
1. Combine all ingredients in a slow cooker; stir until combined. Cook, covered, for 3-4 hours on high or low for 7-8 hours. Check lentils periodically to ensure sufficient liquid is present for cooking.
2. Serve on whole wheat buns or eat from a bowl like a chili.