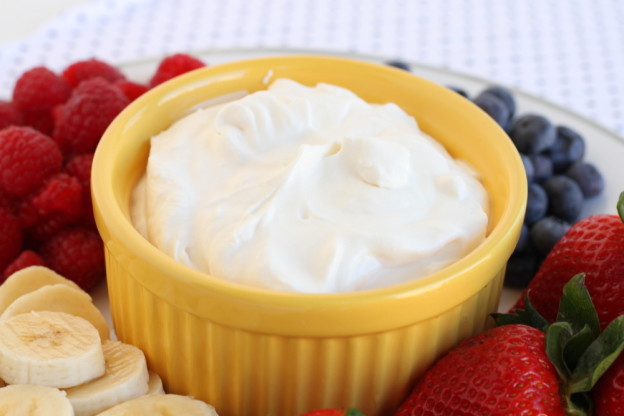 Recently I shared a guest post from a client who was shocked by the sugar content in her daughter's breakfast. Besides the orange juice and blueberry waffle, one of the culprits was the fruit yogurt she was serving. One easy way to dramatically reduce the sugar in that breakfast is to buy unsweetened Greek yogurt and to add your own sweetness. Stevia is a great choice because it's a natural sweetener (made from the stevia plant) but has zero calories! And remember, Greek yogurt has 2x the protein of regular yogurt, too!
I usually buy the big container of yogurt and mix single serving size portions at a time. This recipe makes a great fruit dip or you can just eat a bowl of it as a snack! You can play with this recipe – sometimes I use almond extract instead of vanilla and omit the lemon juice. You can thin it out with a little milk and pour it over berries. You can stir in berries or some cereal for crunch. Use your imagination and then enjoy this guilt-free treat!
Greek Yogurt Fruit Dip
serves 6-8
Ingredients:
2 – 6 oz. containers plain Greek yogurt
1/2 teaspoon Stevia (or more to taste)
1/2 teaspoon vanilla extract (adjust to taste – it can be strong)
1/2 teaspoon lemon juice (optional)
Directions:
1. Combine yogurt, Stevia, vanilla, and lemon juice (if desired) in a small bowl. Mix well. Cover and chill for an hour or until ready to serve.
2. Serve with fruit. Suggestions: strawberries, kiwi, pineapple, grapes, melons, blue berries, and raspberries