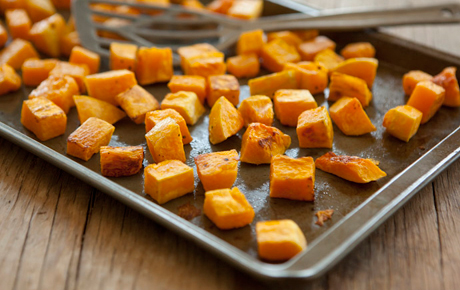 Continuing with our series of Healthy-and-Delicious Thanksgiving sides, here's a terrific addition from Ina Garten of Barefoot Contessa fame. This recipe should serve 8-12, but with so many dishes on the table at the holidays you may be able to stretch it even further.
Butternut squash's flavor profile is a bit chameleon-like. It can be sweetened up practically to dessert level if cooked with fruit, or it can be made more savory by adding other accompaniments like onions and herbs. In this rendition, roasted garlic, sage and pancetta give it a salty kick. The garlic cloves are left in their skins and can be squeezed out like soft butter onto slices of French bread (especially if you're serving this sometime other than Thanksgiving).
Maple-Roasted Butternut Squash
adapted from Barefoot Contessa Back to Basics
serves 8-12
Ingredients:
2 large butternut squash, peeled and seeded, cut into 3/4 to 1-inch cubes (This can be done a day in advance.)
2 heads garlic, separated into cloves but not peeled
4 tablespoons olive oil
5 tablespoons pure maple sugar
2 teaspoons kosher salt
1 teaspoon freshly ground black pepper
4 ounces thinly sliced pancetta, chopped
32 whole fresh sage leaves
Directions:
1. Preheat oven to 400 degrees.
2. Place the squash and garlic in a large bowl. Toss with the olive oil, maple sugar, salt, and pepper. Spread out evenly on two large rimmed baking sheets. Place in oven and bake for 20-30 minutes, until the squash begins to brown, turning once during baking.
3. Sprinkle the pancetta and sage leaves evenly over the butternut squash in both pans and return to the oven. Bake for another 20-30 minutes, until the squash and garlic are tender and caramelized. Season to taste with additional salt and pepper if desired.