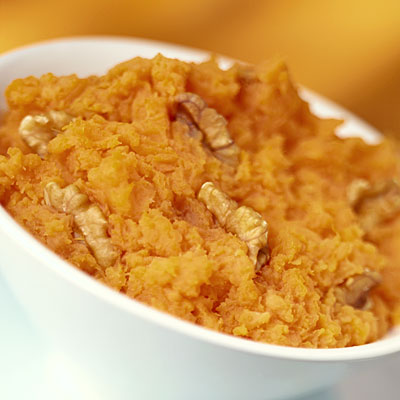 I love hearing about family traditions when it comes to Thanksgiving. We all have those special foods that just have to be on the table to make it feel right. I look forward to some of them all year, almost as much as I look forward to seeing my extended family gathered around the table. No matter how much you love your favorites, it's also fun to try a new dish or two, so this month I'm sharing some dishes that would make great additions to your Thanksgiving table.
Let's start with these sweet potatoes. Instead of canned yams, this dish uses fresh sweet potatoes that you'll bake in the oven (or microwave –  that works, too!) before mashing them up and topping them with just enough of this crunchy, nutty topping to make them holiday-worthy.
Maple Walnut Sweet Potatoes
Ingredients
4 pounds sweet potatoes (about 6 large)
Cooking spray
1/4 cup pure maple syrup
1/4 cup milk
1/2 teaspoon salt
1/4 cup coarsely chopped walnuts
1 tablespoon brown sugar
1 tablespoon butter, softened
Directions
1. Preheat oven to 350°.
2. Place potatoes on oven rack or a baking sheet coated with cooking spray. Bake at 350° for 50 minutes or until tender. Cool. Peel potatoes and mash. Stir in maple syrup, milk, and salt.
3. Preheat broiler.
4. Spread potato mixture into an 8X8 inch baking dish coated with cooking spray. In a small bowl combine walnuts,  brown sugar, and butter. Sprinkle walnut mixture over potatoes; broil 2 to 4 minutes or until nuts are lightly browned.