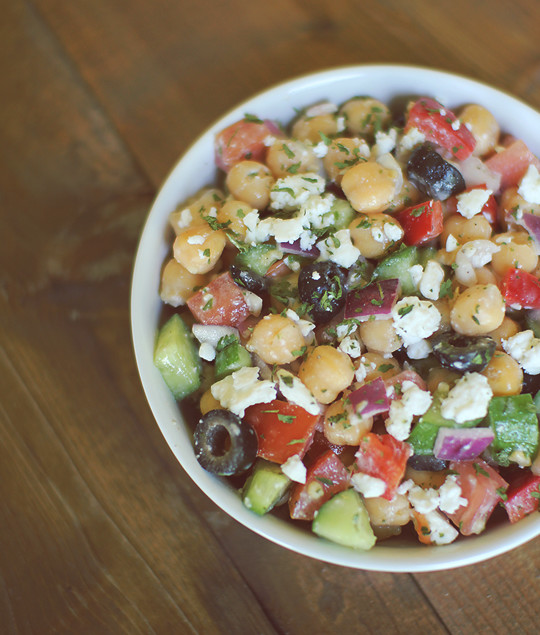 Here's a lovely little salad that works equally well as a side dish or a light lunch! I love Mediterranean flavors in the summer and this combination is perfect – especially the salty bite from the feta and olives.  It doesn't hurt that it's super quick to prepare, either!
Mediterranean Bean Salad
serves 8 as a side dish
Ingredients:
1 can garbanzo beans
1/4 cup flat leaf parsley, chopped
1/2 cup red bell pepper, diced
1/2 cup Roma tomato, diced
1/4 cup black olives, sliced
2 ounces feta cheese, crumbled
1/8 cup red onion, finely chopped
Dressing:
1 tablespoon lemon juice
1 tablespoon red wine vinegar
1 clove garlic, minced
2 tablespoons Greek yogurt
1/2 cup English cucumber, diced
salt and pepper to taste
Directions:
1.  Drain and rinse garbanzo beans in a colander, running water over them until it stops bubbling. Transfer beans to a medium bowl.
2.  Add rest of salad ingredients (parsley through onion).
3. Add the dressing ingredients to a glass jar , and shake to mix. Pour dressing over  salad and toss to coat with dressing. Keep refrigerated.