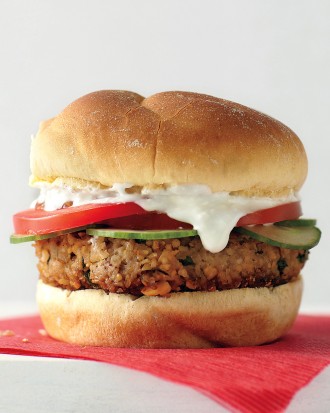 I can't remember when veggie burgers first because a staple in my meatless meal rotation, but it was probably when I was single and living in Atlanta and looking for super quick ideas that worked "for one". I'm still partial to Gardenburger Original, but there are so many ways to make variations at home, that every now and then I branch out!
So, continuing with this meatless meal idea series for Lent 2015, here is a twist on a veggie burger that uses chickpeas and potatoes as the basis for the burger. Earthy and hearty, these are so good you won't miss the meat a bit. I like these toppped with cucumber, tomato and tzatziki, but you could use lettuce, spinach, red onion, avocado, roasted red peppers, or whatever combination of toppings appeals to you!
Mediterranean Chickpea Burgers
Ingredients:
1 8 oz. red potato
3 Tbs. olive oil
1 tsp. minced garlic
1 (15.5 oz.) can chickpeas, drained and rinsed
1 Tbs. fresh parsley
½ tsp. lemon rind
½ tsp. salt
¼ tsp. pepper
2 large egg whites
Directions:
Place red potato in sauce pan and cover with water, bring to a boil and cook for 20 minutes, or until tender. Drain the water, coarsely chop and place in a medium sized bowl. Add 1 Tbs. olive oil and garlic, mash until slightly chunky.
Stir together 3 Tbs. of chickpeas, parsley, lemon, salt and pepper, leaving the chickpeas whole, not mashed.
Take the remaining chickpeas and mash into the potato mixture until well blended. Gently fold in the whole chickpea mixture into the mashed chick pea mixture. Divide mixture into 6 equal portions and shape into patties.
Heat 1 Tbs. of olive oil in a pan on medium heat. Add 3 patties at a time, cooking on each side for 3-4 minutes, or until golden brown.
Serve on whole wheat buns with cucumber slices, tomato, and a drizzle of tzatziki.