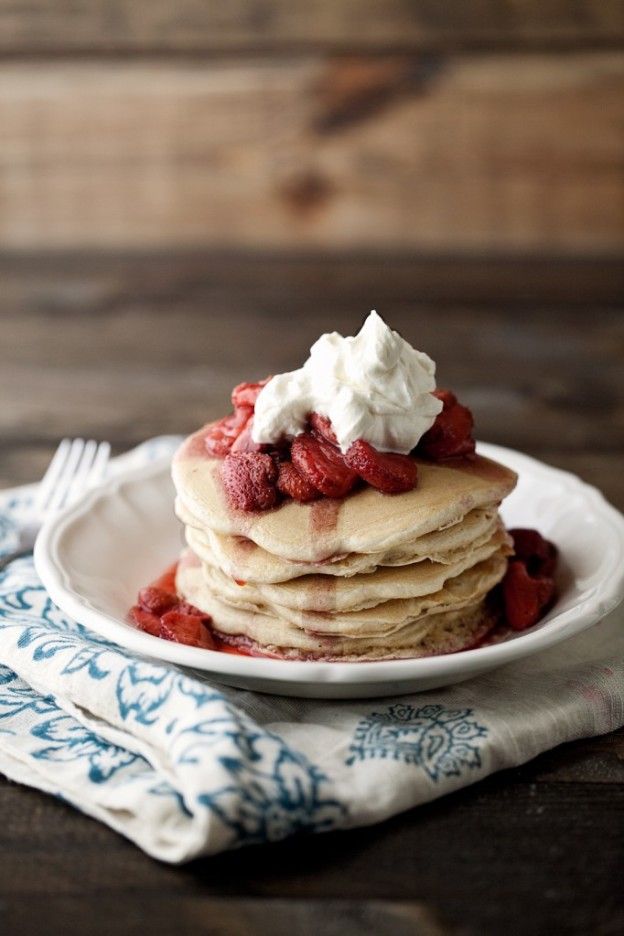 I don't know about you, but breakfast in bed is not high on my list of Mother's Day moments. Generally, I try to keep crumbs out of my sheets rather than inviting them in.
But sit me down in my favorite reading chair after church with a steaming mug of coffee while you simmer strawberries, bourbon and pure maple syrup to pour over my pecan pancakes before adding a dollop of homemade whipped cream??? Now THAT I can get excited about.
Here's how to make it happen. Coffee not included, but if you want my reco, it's Starbucks Blonde Veranda blend brewed in a French press with a heavy pour of cream. Perfection.
Mother's Day Pecan Wheat Pancakes with Maple Bourbon Strawberries
adapted from Naturally Ella
Yields:  4 servings
Ingredients:
Pancakes
2 cups whole wheat pastry flour
1 cup pecan pieces
2 teaspoon baking powder
2 teaspoon salt
4 teaspoons pure maple syrup*
4 eggs
2 tablespoons walnut oil
1-1.5 cups milk
Sauce
3 cups sliced strawberries
½ cup bourbon
2-3 tablespoons pure maple syrup*
Whipped Cream
1/2 c. heavy whipping cream
1 Tbsp. powdered sugar
*please please please do not ruin these by using imitation maple flavored syrup. buy the good stuff. just trust me.
Directions:
In a medium skillet or pot, add bourbon and cook over medium heat until reduced by half. Add in strawberries and maple syrup, reduce to medium-low heat, and let strawberries simmer until soft and liquid has reduced, 10-15 minutes.
Beat the whipping cream and sugar in a bowl with an electric mixer till it thickens and stiff peaks form when you lift the beaters out of the cream. Set aside.
To make pancakes, lightly toast pecans in a skillet for 3-4 minutes over medium low heat. Remove and place in food processor, pulsing until pecans are ground, but not flour.
In a medium bowl, combine ground pecans, flour, baking powder, and salt and give a good stir. In a separate bowl, whisk dry ingredients together with the maple syrup, eggs, oil, and ½ cup milk. Pour over dry ingredients, stir just until combined – don't over mix. If batter thickens too much (and isn't easily pourable) and a bit more milk.
Heat a griddle. When griddle is hot (if you flick water onto the griddle, it should sizzle), take about ¼ cup of batter and pour onto griddle. Let cook for 1-2 minutes (until the pancakes begin to bubble slightly. Flip and let cook for another 1-2 minutes until pancakes are cooked through.
Serve topped with cooked strawberries and a dollop of whipped cream.