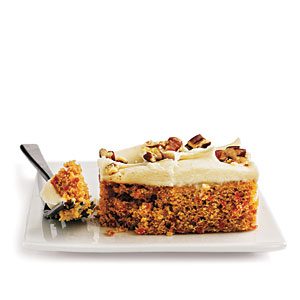 Carrot cake is an Easter favorite, because bunnies like carrots, obviously, but despite the inclusion of a vegetable in its name, it's not exactly a health food. Most of the time, those poor carrots are swimming in oil and butter and sugar and buried under an inch of cream cheese. Delicious, but still. When it comes to desserts, I normally advocate eating "the real thing" in smaller portions…but consider that one popular online recipe for carrot cake weighs in at 1,460 calories and 28 grams of saturated fat in one three-layer slice. Oy. This version has 284 calories per slice and just 5 grams of saturated fat. I know.
So, to start this carrot cake makeover,  you'll get out a 9X13 pan (instead of the round pans you'd use for a layer cake) and by so doing,  you'll reduce the ratio of icing to cake in each slice. (I'm sorry to break it to you, but the icing is the biggest culprit when it comes to the sugar and fat content of any cake. Well, except for cheesecake…but I digress.)
You'll still use all the familiar, natural ingredients, like butter, brown sugar, vanilla, cinnamon, and cream cheese, just in altered proportions from the old standby. There's one unusual addition the icing, an ounce of fromage blanc, which adds something lovely, but if you can't find it, I've given you a substitution suggestion below.
So this Easter, have your cake and eat it too! May I suggest leaving a piece for the Easter Bunny….why should Santa have all the treats?
Not Your Ordinary Carrot Cake
adapted from Cooking Light
Yields: 20 slices
Ingredients:
Cake:
13 x 9 inch metal baking pan
10.1 ounces all-purpose flour (about 2 1/4 cups)
2 teaspoons baking powder
1 1/2 teaspoons ground cinnamon
1/4 teaspoon salt
2 cups grated carrot
1 cup granulated sugar
1/2 cup packed brown sugar
6 tablespoons butter, softened
3 large eggs
1 teaspoon vanilla extract
1/2 cup low-fat buttermilk
Cooking spray
Frosting:
6 ounces cream cheese, softened
1 ounce fromage blanc (or sub 1 more ounce cream cheese)
2 tablespoons butter, softened
1/2 teaspoon vanilla extract
1/8 teaspoon salt
3 cups powdered sugar
1/4 cup chopped pecans, toasted
Directions:
Cake:
1. Preheat the oven to 350 F.
2. In a small bowl, mix the flour, cinnamon, and salt with a whisk. Add the grated carrot and stir.
4. In a separate bowl, beat the granulated sugar, brown sugar, and butter at medium speed with a mixer.
5. Once the ingredients are combined, beat in the eggs one at a time. Add the vanilla.
6. Grease the 9X13 pan and bake at 350 F until a toothpick comes out clean (usually 27-28 minutes) and then allow to cool.
Frosting:
1. Beat the softened cream cheese, fromage blanc, butter, vanilla, and salt at medium speed with the mixer.
2. Once the mixture is fluffy, add the powdered sugar slowly and beat until mixed.
3. Frost the cake and scatter toasted pecans on top.