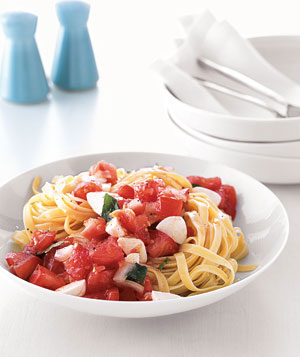 There is nothing better than a summer tomato. Except a summer tomato and fresh mozzarella. And that's exactly what you get in this pasta dish you'll serve at room temperature. Tomatoes, mozzarella, and a little basil. It's like a summer afternoon tossed in a pasta bowl.
Listen, you absolutely must use fresh, summer tomatoes in this dish. Do not even think about making it with bland, flavorless, tomatoes you found at the grocery store. Make a pilgrimage to a farmers market, track down a roadside produce stand, or plant a garden if you must to get the freshest, most fruity tomatoes you can find. Totally worth the extra effort!
Pasta Caprese
adapted from Real Simple
serves 4
Ingredients:
1 1/2 pounds fresh summer tomatoes, diced
1/2 small Vidalia onion,  chopped
2 tablespoons extra virgin olive oil
8 ounces bocconcini (small balls of fresh mozzarella), quartered, or fresh mozzarella cubed
kosher salt and black pepper
12 oz. whole wheat fettuccine
1/2 cup fresh basil, torn
Directions:
1. In a mixing bowl, combine the tomatoes, onion, oil, cheese, 1 ½ teaspoons salt, and ¾ teaspoon pepper.
2. Allow to marinate at room temperature for at least 10 minutes.
3. Meanwhile, cook the pasta according to package directions.
4. Add the drained pasta and basil to the marinated tomatoes and toss to combine. Divide among individual bowls.