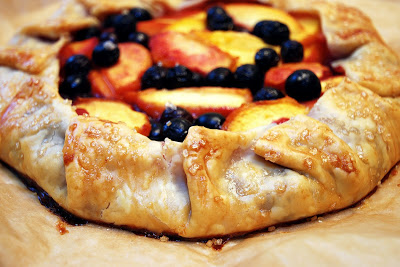 As much as I love fall, I'm just not quite ready for summer to end. I'm already wistful about how much I'll miss the little things I love about the season – seeing the flowers around my patio in full bloom, lighting a citronella candle and having dinner outside, taking the kids to the pool for a quick dip in the evening, and making lemonade or popsicles whenever we so desire. It's the simplest things that make summer grand.
So as we ease into September, I'm clinging to a windowsill lined with tomatoes from my parents' garden, defiantly firing up the grill every single night, and absolutely refusing to make my annual switch from white wine to red!
This weekend, in an homage to summer's simple pleasures, I'm making this free form galette. It's warm, sweet, and simple – just the way summer should be.
Peach and Blueberry Galette 
serves 8
Ingredients
1 refrigerated pie dough (1/2 of a 15 ounce package or make your own recipe)
3 cups sliced fresh peaches, peeled
1/2 cup fresh blueberries
1 tablespoon cornstarch
2 tablespoons white or turbinado sugar, divided
1 tablespoon apricot preserves, melted in microwave in small glass bowl
Directions
Preheat oven to 425°.
Line a baking sheet with parchment paper. Roll the dough into a 12-inch circle (it doesn't need to be perfect); place on parchment. In a small bowl, combine sliced peaches, blueberries, cornstarch and 1 tablespoon sugar. Arrange peach mixture in center of dough, leaving a 3-inch border. Fold edges of dough toward center, pressing gently to seal (dough will only partially cover peach mixture – see photo). Brush half of melted preserves over peach mixture and edges of dough.
Bake at 425° for 10 minutes. Reduce oven temperature to 375° (do not remove galette from oven) and bake an additional 20 minutes or until lightly browned. Sprinkle with remaining tablespoon of sugar. Serve warm or at room temperature by cutting into 8 wedges.