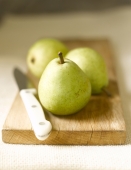 Are you craving something a little lighter after the season's festivities? Have you resolved to eat healthier? To try more whole grains? To have more fruits and vegetables? We've got you covered.
This delicious salad is a great introduction to quinoa for the uninitiated, or a new way to enjoy it for those of you who are already fans.
Quinoa (that's it, uncooked, pictured in this post) is a a recently rediscovered ancient grain native to South America. According to the World's Healthiest Foods website, which I visited to do a little fact checking for this post, it is high in protein, and it supplies  complete protein, meaning that it includes all nine essential amino acids, which makes it a good choice for vegans concerned about getting enough protein. Quinoa also has a significant amount of the amino acid lysine, which is essential for tissue growth and repair, meaning it will help you recover from all those hours you're planning to log at the gym this January. In addition to protein, quinoa features a host of other health-building nutrients. The WHF website says that because quinoa is a very good source of manganese as well as a good source of magnesium, folate, and phosphorus, this "grain" may be especially valuable for persons with migraine headaches, diabetes and atherosclerosis. It's also gluten-free!
You'll cook quinoa as a substitute for rice or pasta in many dishes. It cooks quickly on the stovetop (similar to white rice – takes about 15 minutes), and is really quite delicious.
You'll find it in the organic section of most grocery stores  near the rice and pasta, or you can buy it in the bulk bins at places like Whole Foods. Costco also sells a BIG bag of it at a really good value if you find that you're cooking quinoa frequently.
Okay, enough about the star ingredient and on to the recipe! Give this one a whirl and let me know what you think in comments…
Pear-Quinoa Salad with Maple Vinaigrette
makes 6-side dish  or 4-main dish servings
Ingredients:
Salad:
2 cups reduced-sodium chicken or vegetable broth
1 cup quinoa (rinsed if necessary)
2 ripe but firm pears, diced
2 handfuls baby spinach, washed and drained
handful dried cranberries
2 tablespoons fresh chopped parsley
1/2 cup coarsely chopped walnuts or pecans, toasted
1/4 teaspoon salt
1/4 teaspoon pepper
Dressing:
4 tablespoons extra virgin olive oil
3 tablespoons balsamic vinegar
2 tablespoons pure maple syrup (the real thing, please!)
Directions:
1. Bring broth to a boil in a large saucepan. Stir in quinoa and reduce heat to low. Cover and cook unit the liquid is absorbed, about 15 minutes.Fluff with a fork.
2. Whisk olive oil, balsamic vinegar, and maple syrup together. Set aside.
3. In a large bowl combine diced pears, spinach, and parsley. Pour dressing over and toss to combine. Add quinoa, dried cranberries, walnuts, salt & pepper, and gently combine. Serve warm or at room temperature.