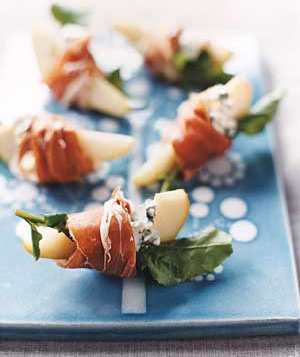 With December upon us, you're sure to be asked to bring an hors d'oeuvre or two to a holiday party. While we can all oblige with our favorite stand-by recipes, I love it when I discover something new and delicious.
This idea is less of a recipe than it is instructions for assembly, perfect for those of you who aren't looking for anything too complicated, but still want a dish that will dazzle.
The classic combination of pear, bleu cheese and prosciutto – sweet and salty with a little hint of bitter from the arugula and tart from the lemon juice – it's just perfection on a plate. Enjoy!
Pears With Blue Cheese and Prosciutto
Ingredients:
2 pears (such as Bosc or Barlett) each cut into 8 wedges
2 teaspoons fresh lemon juice
1 cup arugula
3 ounces blue cheese, cut into small pieces
8 slices prosciutto, each cut in half lengthwise
Directions:
1)   In a large bowl, toss the pears and lemon juice.
2)   Place a wedge of pear, one arugula leaf, and one chunk of cheese on a piece of prosciutto and roll up.  You may secure with a toothpick.