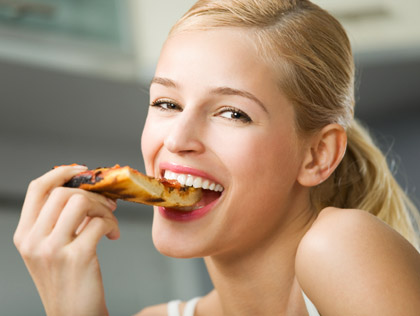 The Nourish team got together at Dewey's one night this week for a little social time. As our team grows it's so fun to put the whole crew in one place at one time! Dewey's is a Cincinnati restaurant that features gourmet pizzas and salads. Their pizza is great, but I love to make interesting pizzas at home, too. We get creative with toppings and take a break from the traditional "red sauce and mozzarella" duo. This recipe is a great mix of flavors if you want to give it a whirl for pizza night in your own house this week! The right crust makes all the difference here. I love Trader Joe's fresh whole wheat crust – it's a great time saver and it has a simply amazing texture. Enjoy!
Portobello Mushroom, Sweet Pepper & Artichoke Pizza
serves 4
Ingredients:
1  12-inch pizza crust or dough (e.g. Trader Joe's whole wheat fresh dough)
1 tablespoon extra-virgin olive oil
2 garlic cloves, minced
1 red bell pepper, sliced
1 yellow bell pepper, sliced
2 portobello mushroom caps wiped clean and thinly sliced
4-6 whole, medium canned artichoke hearts, drained and chopped
4 oz. goat or feta cheese crumbled
3 tablespoons balsamic vinegar
Directions:
1. Preheat oven to 375 degrees.
2. Using a little olive oil, grease a baking sheet. (Skip this step if you are using a pizza stone.) Spread pizza dough out evenly on the prepared pan or stone. Drizzle with 1 tablespoon olive oil. Sprinkle the minced garlic over the crust.
3. Arrange the peppers, mushroom slices, and artichoke hearts on top. Sprinkle with the goat or feta cheese. Drizzle the balsamic vinegar over the top.
4. Bake for 15-20 minutes until the edges are golden.