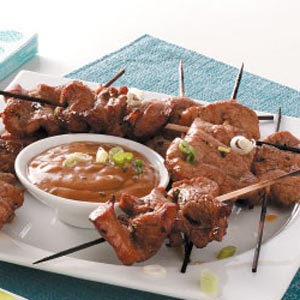 Labor Day weekend is upon us and since we're nearing the unofficial end of summer, you may have had enough of traditional barbecue foods by now! If so, here's a new dish you can add to your Labor Day menu that everyone will love. You're still using the grill, but hamburgers and hot dogs this is not!
If you'd like, you can make the sauce in advance and refrigerate it. You can also prep the pork and thread it onto skewers the night before your party. Taking these steps keep things nice and simple on the day you're entertaining – just throw the meat on the grill and heat up the sauce!
Pork Tenderloin Satay
serves 4
Ingredients:
1 small onion, diced
1/4 cup packed brown sugar
1/4 cup water
3 tablespoons reduced sodium soy sauce
2 tablespoons. peanut butter
4 teaspoons canola oil
2 garlic cloves, minced
1 teaspoon minced fresh ginger
1.25 pounds boneless pork tenderloin, silverskin removed
sea salt and freshly ground black pepper, to taste
Directions:
1. Bring first 8 ingredients (through ginger) to a boil in a small saucepan. Reduce heat and simmer 10-12 minutes. Set aside 1/2 cup of mixture to be used for dipping.
2. Cut trimmed tenderloin in half crosswise and then slice each half into thin strips. Season on both sides with salt and pepper.
3. Preheat grill. Thread pork strips onto metal skewers and grill 3-4 minutes on each side until center reaches 145 degrees. Baste with remaining sauce and serve with additional sauce for dipping.